With the rise of indie game development there has been a concurrent upswing in the number of retro platformers available on the market and they've quickly become a dime a dozen. Few are able to stand out from the crowd but Adventures of Pip from Tic Toc Games manages to do so with a unique gameplay mechanic; the ability to evolve the main character from a single pixel to a 32-bit sprite. Adventures of Pip is a very competent and enjoyable platformer but despite its innovative gameplay twist, it doesn't quite possess the same kind of magic boasted by the platformers of yore that it tries to emulate.
Adventures of Pip opens with an introduction into the Pixel Kingdom whose social stratification is based upon the residents' resolutions; those who have more pixels live in luxury whilst the rest live humble lives. A princess going by the name of Adeline is born with the ability to make pixels from nothingness and in typical Sleeping Beauty fashion, she is captured on her sixteenth birthday by evil antagonist Queen DeRezzia who leaves the kingdom in disarray. Pip, an unlikely single-pixel hero sets out on a journey to save Princess Adeline and restore his town.
The written dialogue is rife with wry humour with frequent, resolution-related puns ("I'm not a rez-ist but…") and it's nice to see that the game doesn't take itself too seriously. It's just a shame that there's not more of this humour since character interactions are quite infrequent (unless you visit the town and speak to residents you've rescued along the way) and as a result Pip and the rest of the supporting cast of characters all feel rather underdeveloped. Also the story follows the overdone 'unlikely-hero-rising-to-greatness' formula and feels somewhat lacklustre.
Adventures of Pip takes place over thirty-six levels and five (generically-named) worlds with a level-by-level format and an overworld map reminiscent of that in Super Mario Bros 3. The controls are what you'd expect from a platformer with the left joystick being used to move Pip, the 'A'/'X' button to jump and the 'X'/square button to punch as 8-bit Pip and to wield your sword or drag and push an object as 32-bit Pip. The controls are accurate and responsive which makes the platforming in Adventures of Pip both fluid and satisfying.
As well as being able to evolve between a single square and a 32-bit sprite by destroying respawning, crystallised blue bitstream enemies, Pip is also able to devolve by holding the 'B'/circle button, momentarily freezing time as he does. Pip has different abilities dependent on his resolution. For example Pip is able to glide as a single pixel, wall jump in his 8-bit form and use his sword to destroy blocks in his 32-bit form. His evolutions respond differently according to the environment, for instance in the Sewer world when water is introduced for the first time you learn that 8-bit Pip will float on the surface, 32-bit Pip will sink right to the bottom and 16-bit Pip is able to swim freely. The gameplay becomes a matter of finding the best evolution for the task at a hand therefore Adventures of Pip is as much a puzzle game as a platformer and quick decision making is required as much as twitch reactions.
Each level has the optional challenge of saving three townspeople and doing so allows you to get a perfect rating for the level. These people are usually in hard-to-reach or hidden areas and finding them all will extend your playthrough by one or two hours. Pip can also collect treasure called pixels by opening chests or defeating the game's various enemies.
With these pixels you can return to the town and purchase buffs and upgrades from the shop and armoury. Examples include the ability to shoot beams from Pip's sword when he is at full health, the upgrade that'll halve enemy damage and one that'll double the amount of pixels produced when defeating an enemy. These don't alter the gameplay in a major way but they are a welcome inclusion to mix things up.  is a nice inclusion. Finding these hidden chests and townspeople is one of the most enjoyable aspects of Adventures of Pip and the act of doing so evokes memories of stumbling upon secret areas in NES classics from the pre-Internet walkthrough era.
In terms of difficulty, Adventures of Pip won't challenge most skilled gamers, especially when your overall health increases after each world and if you choose to buy the health upgrade in the shop. It appears that the developer has tried to deal with this by putting ample distances in between checkpoints (which can sometimes be a little bit annoying since you have to go back and reopen chests you've already found on your next playthrough) but overall you won't break too much of a sweat breezing through each level. The well-designed rule-of-three bosses at the end of each world won't cause you too much aggravation either. I'm not somebody who particularly likes punishing difficulty in my platformers but for those who are looking for a substantial challenge may not find it in Adventures of Pip.
With a game whose entire premise is based on resolution it comes as no surprise that Tic Toc Games have opted for a pixelated art style. The colourful backdrops are easy on the eye and successfully capture that
nostalgic retro aesthetic. Although the appearance of each world differs greatly, the levels themselves begin to look very similar but on the whole the art direction is excellent. Unfortunately the same can't be said for the music. Each world only has the single soundtrack which becomes slightly grating once you've heard it for the eighth time. When you think of instantly-recognisable soundtracks such as those in DuckTales, Mega Man or even the more contemporary Shovel Knight, the music of Adventures of Pip pales in comparison and feels rather flat. It's a shame that a more diverse and hard-hitting track wasn't included to complement proceedings.
It'll take you around five hours to complete Adventures of Pip, around seven if you're a completionist, and I'd be surprised if you didn't enjoy every single minute you're in the Pixel Kingdom. The unique gameplay, fantastic art direction, responsive controls and satisfying platforming are enough to recommend Adventures of Pip (not to mention that it runs perfectly on the Unity engine with zero performance issues) but just don't expect it to blow your mind. Perhaps with a more diverse, thumping soundtrack and a more tuned focus on story and characters, we could have been mentioning Adventures of Pip alongside some of the greats of the NES era.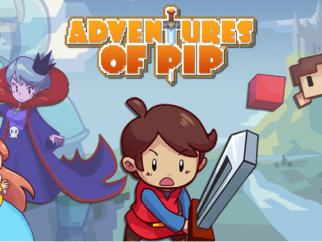 Adventures of Pip
The Good
Unique Gameplay Twist

Satisfying Platforming

Pixelated Art Style

Responsive Controls

No Bugs/Performance Issues
The Bad
Underdeveloped Characters

Lacklustre Story