The Disneyland Resorts are hugely popular and loved bt the thousands of visitors they attract each day. Since gaining the rights to Star Wars people have been eagerly anticipating the proposed Star Wars Land. They're still a long way off completion of the 14-acre experience so we will have a long wait. Still Disney have released some stunning concept art via the Disneyland Parks Blog that give us some insight into the experience they plan to bring to tourists.
You can see the image here: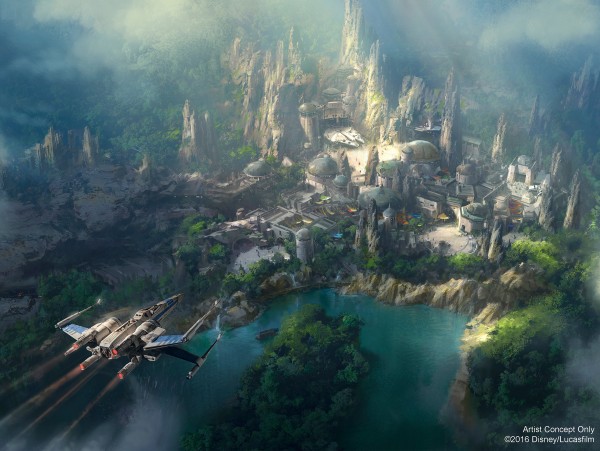 Disney said:
In April, we celebrated the official groundbreaking of Star Wars-themed lands coming to Disneyland and Walt Disney World Resorts, and beginning today, Disneyland park guests can get a glimpse of this exciting and immersive experience. A new image has been unveiled on the fence along Big Thunder Trail in Frontierland – one of the entry points to this never-before-seen planet in the Star Wars galaxy – revealing more about what guests will find in this all-new land.

Nestled between towering spires of rock, this thriving port contains a seemingly familiar architecture of markets, landing zones and buildings. Click here for a larger version of the image above. Look closely and you may find hints of some of the thrilling experiences that are coming – like the Millennium Falcon peeking out of one of the cargo bays, marking the location where guests will get the opportunity to pilot the fastest hunk of junk in the galaxy.

The 14-acre land will be the largest-ever single-themed land expansion at Disneyland Resort. Keep an eye on the Disney Parks Blog – we'll continue to bring you updates as we learn more about this planet, as well as the citizens, aliens and droids who populate it.
If you are not sold on this already then here is some more, previously released concept art for you to drool over: