Originally posted by Michael Allen
One of WWE's hallmark events in Summerslam is right around the corner and with it ramps up the 2K marketing machine! Today however it was Triple H releasing information about the upcoming title in somewhat fitting fashion as the major announcement involves his brain child, NXT.
This years Collector's Edition will focus around the WWE Network's hallmark brand NXT and with that comes it's roster. We were already treated to this likes of Finn Balor and Samoa Joe (via DLC) in 2k16 but the big question this year was whether or not Shinsuke Nakamura would be included or was he too late in joining the WWE to make the cut? Well fear not Strong style enthusiasts as the King is indeed headed our way alongside Apollo Crews and Nia Jax. It seems however that at least Nakamura will be an Collector's Edition exclusive at launch.
There are obviously a lot more characters that we are wanting to see and although not confirmed, Bayley, Asuka, Alexa Bliss and the Revival all feature on the collectors edition box art however when asked about the 4 Horse Women that were controversially missing last time around, Triple H passed the buck to 2K and simply said stay tuned! It has got to be a certainty that they are in this time around….right?!
Back to the Collector's Edition! It is priced at $99 which can only mean one thing….that's right, 2k17 is getting a statue and who better the represent what NXT has stood for than the longest reigning NXT champion and Icon of NXT, Finn Balor in his signature Demon paint.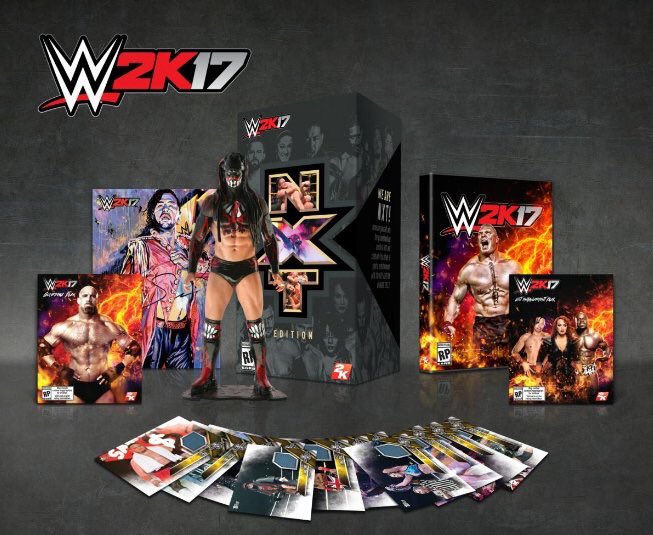 For once however, when they say limited edition, they mean as there will only be 50,000 copies worldwide all of which include an autographed Nakamura picture as well as a Topps NXT Takeover London trading card which has a section of the ringmat from the event itself.
WWE 2K17 NXT Edition Trailer
With this including the already announced Goldberg pre-order DLC, the 2k17 Collector's Edition sure offers a lot of bang for it's buck when the game is released on October 11th on XBOX One, 360 as well as PS4 and PS3.