Ghostbusters – Released: 11th July (UK), 15th July (USA)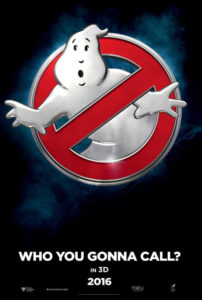 The reboot of one of the greatest 80's comedies makes its way to our screens this week. Featuring a cast fronted by Melissa McCarthy and Kristen Wiig, who are joined by Kate McKinnon, Leslie Jones and Chris Hemsworth. The story follows a team of paranormal enthusiasts as they battle a ghost invasion of Manhattan. The reboot is directed by Paul feig who has previously worked with McCarthy and Wiig, most memorably on their break out movie: Bridesmaids. It's easily the biggest release this week, and if its blockbuster you're after: this is basically your only option this week.

Ice Age: Collision Course – Released 15th July (UK), 22nd July (USA) 
This week in the ongoing "baffling film of the week" section it's the fifth instalment of the, apparently still active, Ice Age franchise. This time round the animated characters are tussling with a problem of meteoric proportions. The voice cast on show here is extensive and varied with actors such as Ray Romano and John Leguisamo acting alongside Jessie J, Queen Latifah and Neil De'Grasse Tyson. The film has not been received well by critics, which might lead some to wonder if, after 14 years of films, this Ice Age has gone on a little too long. But if it's animated family films you're looking for, you won't find a newer release this week.

Keanu – Released: 15th July (UK), 29th April (USA)
Acclaimed comedy duo Key and Peele bring themselves to the big screen in Keanu, a film about two cousins who pose as drug dealers to retrieve their recently abducted kitten, named Keanu. The film is made on a relatively small budget of only 15 million dollars, and is Key and Peele's first outing on the big screen, though based on its success in the USA it's probably going to be the first of many. As well as being financially successful the movie has been critically well received with the film scooping up positive reviews all across the board. If it's an action/comedy you're looking for this week, seems like you've not got to look any further than Keanu.