Jack Reacher: Never Go Back – Released: 20th october (UK), 21st October (USA).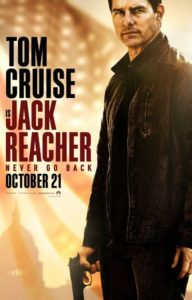 And the award for least catchy movie title of the year goes to: Jack Reacher 2, the sequel to 2012's surprisingly successful action movie. Once again Tom Cruise is back in the lead role as the titular protagonist whilst directing duties are picked up, this time, by Edward Zwick who has previously directed movies like: The Last Samurai, Blood Diamond and Love and Other Drugs. This time around the story involvs absolving one of his colleagues whilst potentially coming to terms with being a father. On paper it seems like a deeper plot than one might be used to in a popcorn style action movie. Perhaps it deserves a trip to the movies; to see if it capitalises on this promise.

 Trolls – Released: 21st October (UK), 4th Novermber (USA).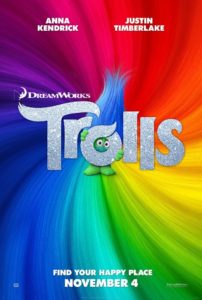 if you read the Sub-heading this week and thought "ooh, I wonder which of the three it will be" then look no further then Trolls: An animated film based on the famous vibrant haired dolls of the 60's and onwards. DreamWorks first movie in 9 months (their last release being Kung Fu Panda 3) Trolls tells the story of a princess and her companion rescuing their friends from an unknown evil. Whilst the premise and plot aren't exactly enticing the voice cast certainly is as features vocal work from some serious heavy hitters such as: Anna Kendrick, Justin Timberlake, Zooey Deschanel, Christopher Mintz Plasse and John Cleese*. But complain though I may, it's always important to have a choice of film you can take your family to and if that's what you're looking for then Trolls may be the best choice of film for you.

Ouija: Origin Of Evil – Released: 21st October (UK + USA).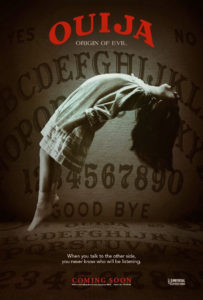 Finally this week it wouldn't be October if there wasn't a good horror film on the list and this week's choice pick is the prequel to 2014's critically panned Ouija. This time round the movie focuses on a family who use séances to scam people. Except when they stage a new stunt to re-invigorate their scam they invite genuine evil into their home and have to do all they can to dispel it. Where 2014's Ouija was critically panned this prequel is receiving much more favourable reviews. So if you are starting to get in to the Halloween mood and you want something to give you a good scare then Ouija may be just the way to do that.

*That's right, the actual John Cleese, the once member of Monty Python, writer of Fawlty Towers, creator of some of the greatest comedies ever put to paper and screen: John Cleese is in this movie based on Troll Dolls. There are not enough W's, T's and F's in the world to properly convey his place on this cast list.