Originally posted by Stuart Kirkman
Comic books are expensive, it's one of the things that makes the medium so impenetrable to new readers. An average single issue will cost around £2.65 in the UK, (normally between $2.99 and $3.99 in the US) and when you consider that they only take around 10 minutes to read, it's a difficult cost/benefit ratio to justify.
Yesterday, Entertainment Weekly revealed that Comixology have launched a monthly subscription service, called 'Comixology Unlimited'. Costing $5.99 a month, and gives 'unlimited access to a trove of hot comics titles'. At first glance, this seems like a no-brainer for comic readers. Being able to read as much as you want, and sample hundreds of titles without risk is a dream come true. But don't go cancelling your pull-list just yet…
Comixology
Un

limited

Marvel and DC are the two biggest publishers in comic books. According to The Mayo Report, in April 2016 their combined unit share was 79.84% of the market (based on the top 300 comics that month), leaving smaller publishers like Image, IDW and Dark Horse with just over 20% between them. The first problem with Comixology Unlimited is that neither Marvel nor DC comics will be available on the service.

Marvel already offers their own subscription based service, the coincidentally named Marvel Comics Unlimited has been available for several years now, and gives access to almost all Marvel titles after six months of release on the shelves. This gives a very cost-effective alternative to people who can't afford to read everything as it comes out, as they can read as much as they want for the price of around three single issues per month.

Comixology Unlimited doesn't have the same value proposition. Rather than allowing you to read an entire series as the name implies, only the first few issues of the biggest titles will be available. These are intended to act as a sampler, so that a reader can find a book they like and then read more of it. Comixology already do this, albeit on a smaller scale, by offering more than a hundred first issues for free at any one time. So is the extra cost really worth the benefit?

Comixology isn't a bad service; they're a reliable digital platform that offers access to books from almost every publisher, all in one place. But the 'Unlimited' proposition and name seem disingenuous, and the same EW article is particularly misleading when it makes a direct comparison to Netflix, a service which gives access to more content than you could watch in 3 years, without stopping.

Regardless of these downfalls, they seem to have caused a stir in the creative community. Several notable writers and artists have spoken out about the service on Twitter, some with positive impressions, and others less so. Ed Brubaker probably sums it up best, noting that Comixology seems to be designed to increase sales, making consumers spend more money on  comics rather than less: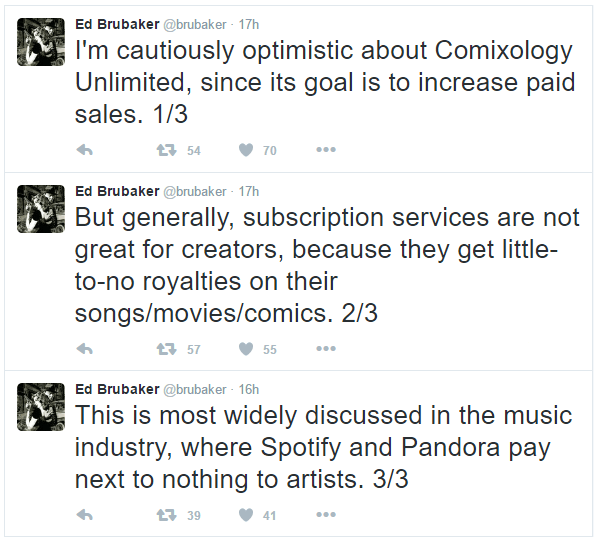 Publishers are always looking for new ways to increase their customer base, and whether this is a good or bad thing for the industry has yet to be seen; but potential subscribers to Comixology Unlimited should be aware of the shortcomings, as it doesn't appear to be the service they would have you believe. The service is currently only available in the US, but is expected to come to the UK and other areas soon. The first months subscription is currently free for US users, so they can at least decide for themselves whether the product is worth the investment. Hopefully when it comes to the UK we'll be afforded the same opportunity.