Playstation have released update 1.08 for Sharefactory which is said to include "Some very cool features".
Sharefactory is Playstation 4's built-in video editor that offers users the tools to combine, edit and personalize captured video clips.
The first and biggest change is that you now have a second track to add more gameplay footage from your capture gallery. This option gives users the opportunity for picture-in-picture footage or even side-by-side comparison videos. The new track will replace the commentary track.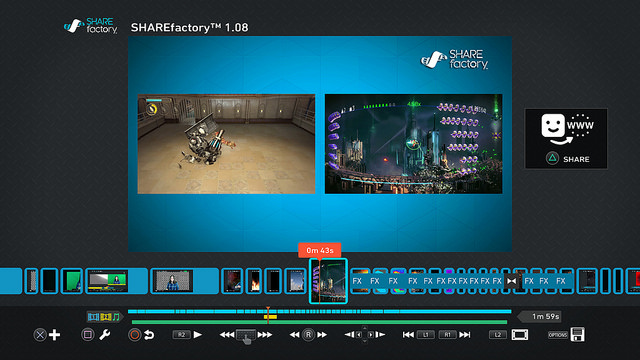 The next change is the ability to now use Chroma-key in your video commentary. Now editors will be able to use green screens or white screens to do away will backgrounds adding what ever takes your fancy.
Thirdly Sony have increased the video export time to 60 minutes so you can create longer videos. You'll also be able to export video while on the PS4 home screen. Furthermore after user demand they have enhanced the Movie Clip function so you can arrange your clips much easier.
Finally the following changes have also been introduced.
Text layers can now rotate
2 new music tracks
15 new filter effects
Video Commentary clips are now saved to the Capture Gallery for easier access as well as reuse in multiple projects
Trim Lock feature making it easier to trim clips while not altering the overall length of your project