After last year's much-awaited gameplay teaser of the fifth installment in the Gears of War franchise, Microsoft today showed us a new glimpse into the Gears world. Slated for an October release it's safe to say that the five year wait for fans of the series will be undeniably worth it.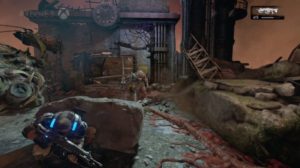 As promised from developer The Coalition early last week, we saw a brand new stage demo hitting E3. Set 25 years after Gears of War 3 the game looks to focus on Marcus Fenix and Anya Stroud's son J.D. Fenix and his friends Delmont 'Del' Walker and Kait Diaz as they deal with the latest threat to humanities survival.
Shown on the Microsoft stage today Laura Bailey, the voice of Kate in the game, appeared on stage to introduce the segment. Kate's mother has been abducted by a new threat, the Swarm.
Kate and a couple of other Gears heroes had to fight off some Swarm enemies. You can take them out with "yank and shank" move, pulling an enemy over a ledge and then cutting its throat. The battle takes place in a giant wind storm, with sand blowing sideways, as the Gears fight.
Kate says to one downed enemy, "Hey, you look like you need a pick me up. She stabs him with a chainsaw bayonet, picks him up, and shoots its head off."
The scene closes as the Gears take out a giant monster. Kate says to it, "We're getting my mother back. And we're burning the goddamn hive to the fucking ground." Then she stomps on it. And the close of the scene, Marcus Fenix is an old man, and he says, "Welcome home, James."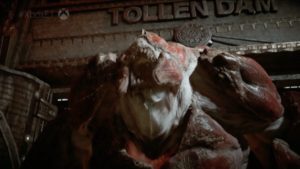 With all new weapons and game modes on the way, it looks set to be another hit in the much-loved game series and a great time to be a Gears of War fan.
Gears of War 4 Launches on Xbox One and Pc in October