Originally posted by Scott Sedman
As previously reported the rumour that the rights to a live action Pokemon movie where going to Legendary have now been confirmed.
Legendary have announced today that the first live action Pokemon film will be based upon Detective Pikachu…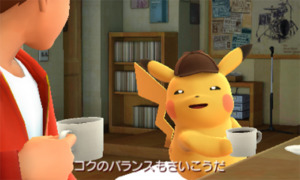 Detective Pikachu is a new spin-off game in the world of Pokemon, the Pikachu in question talks and wears a very Sherlock like attire at least on its head. The game itself released February in Japan with no real word as to when or if we will be getting it in the UK.
However back to the important stuff a live action Pokemon film after 20 years! Pikachu is a well-known mascot and is easily the most bankable character to shove into everyone's faces. The film is still in early stages but Legendary are fast tracking production to begin in 2017 so expect to hear more announcements as things develop.
I am neither excited nor disappointed in this announcement however I am hopeful with the right team they can pull this off. Yes Danny DeVito should voice detective Pikachu and why not have Troy Baker as his trainer, friend or companion.
For all things Pokemon keep tuned to Out of Lives.