Doctor Strange – Released: 25th October (UK), 4th November (USA).
The second marvel film to release this year, Doctor Strange See's Benedict Cumberbatch take the lead role as the mystical doctor in a film filled to the brim with mind bending visual effects. Benedict has been described as the perfect casting for this role and the marvel cinematic universe certainly knows how to add the heavy hitters in to its roster of acting talent. The biggest criticism being levelled against the movie is that it does little to change the "superhero origin movie" format. If you've seen one before you can probably guess the direction that Doctor Strange is going to take. But let's be honest, this is a marvel film, the chances are you've already made up your mind if you're going to see it or not, as that superhero brand carries so much weight and reputation at this point. If there is anyone undecided out there, this will be a perfect popcorn action flick, but perhaps little more.

Let's Be Evil – Released: 5th August (USA), 28th October (UK) (also available on VOD)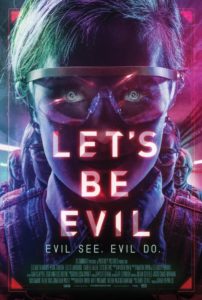 The release of Doctor Strange has meant that many other films have fled to later release dates, Let's Be Evil apparently didn't get that memo and it's a good thing to as, days before Halloween, who doesn't want to sit down in front of a good horror movie.  The first thing you'll notice about Let's Be Evil is it's striking visuals. The film uses its augmented reality setting as a framing device to use striking overlays and a range colours that would feel alien in most movies, especially those in the horror genre. But director Martin Owen clearly embraces the challenge of a bright and vibrant looking horror movie. It's far from a Hollywood a list and it's not packed to the brim with an Oscar winning cast (though there are some definite highlights on the list). But what it does have is a hell of a lot of potential, and a unique idea, and sometimes, when choosing a movie there's nothing better than those two things.

The Comedians Guide To Survival – Released: 28th October (UK), No US Release Date.
James Mullinger (both the real life writer of the movie and eponymous main character.) has reached a crossroads in his life where nothing seems to be going the way he wants it to. He can't get any work, his wife has lost interest and a potential promotion puts him even further away from his love of comedy. The comedians guide to survival tells the story of one man's trip around the world to discover the secret of comedy. Heading up the cast is James Buckley (of inbetweeners fame) who plays the protagonist of the movie. Again, it's certainly not the biggest release of the year but if the last two movies didn't take your fancy and you're looking for something with major potential, this may be it.