Marvel's Agent Carter was one of the casualties of this year's ABC cancellations. However, it was still some great TV, made all the better by being a canonical part of the MCU. Viewer figures were not good though and it fell after two seasons, only 18 episodes. Agent Carter doesn't hold a special place in my heart, nor does it have the nostalgia of something I used to watch. However, for the 18 episodes I watched, I was entertained, I was impressed and it made me think. Let me tell you why….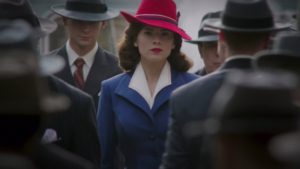 The time period was hypnotic. How many modern sci-fi shows do we get set in the '40s and '50s? The second season, in particular was enchanting, bringing in a sunnier and more colourful environment, despite its arguably darker subject matter. Along with the overall feel of the show, the time period allowed the creators to really have fun with many aspects of the show. Costumes, on the whole, were simple. Suits and ties for the men and flowery dresses for the women. When Peggy Carter walked in sporting her now iconic red hat and blue coat, she turned heads. How dare a woman of her position dress so boldly? By making Peggy stand out in her time, we knew as viewers that she would always be one to stand out. Similarly, the set dressing and props, although appearing drab and dull, served to highlight the powerful Stark technology or the experimental Zero Matter technology in season two. It is easy to draw a comparison with Agents of SHIELD, where everything looks like it belongs in a space station. It was fun to watch this show, experiencing an era which most viewers these days will never have the chance to experience.
Characters were another incredibly strong aspect of Agent Carter. The first season included many references to Captain America, but these were, for the most part, redundant. Expanding on Peggy Carter's character came easily to the writers. Peggy was such a strong character, with a powerful moral compass which pushed her every decision. She was incredibly skilled at what she did, and did not spend time trying to persuade others of this, she simply showed them. It also gave us a lot more of Howard Stark. Tony was clearly cut from the same mould, with Howard's womanizing and playboy lifestyle being well mimicked by his son. He was fun to watch, bringing levity to any scene he was in. Similarly, Edwin Jarvis, the long-suffering Stark butler was a stalwart of the show. The perfect butler, he knew the place for everything, and he made sure that everything was in its place. Although briefly touted as a love interest for Peggy in the early episodes, it soon became clear that their friendship was much more important. Ever loyal to both Peggy and Howard, what Edwin lacked in street smarts he more than made up for in support, and some extremely well-timed collections by car.
Although never quite matching up to the strength of other Marvel properties, Agent Carter had some amazing storylines which really laid foundations for the remainder of the MCU. Season one sees Peggy in New York, fresh from the war, still in mourning over Steve Rogers. As a single woman working for the Strategic Scientific Reserve, Peggy is often dismissed by her seniors and peers alike. This allows her some freedom, which is greatly needed when called upon by Howard Stark for assistance. Peggy unveils a large-scale plot involving Leviathan, a mysterious Soviet agency. Battling constantly against her dismissive colleagues, Peggy eventually manages to persuade her agency to join the fight. Season two moves Peggy and the team to Los Angeles. The city of Angels opens up many more opportunities, with the show introducing mobsters and Hollywood stars. A greater focus on the scientific aspects this season saw Peggy investigating laboratories, recruiting scientists and dealing with Zero Matter. Still pushing against her male colleagues, Peggy works hard to be taken seriously. Throughout the series, the writers toil maintain a balance between showing the viewer that Peggy is a strong independent woman and still making her real. Peggy has her flaws, which she can recognise. However, where many women of that time were pushed underfoot and forced to feel that they were less than a man, Carter uses that as fuel. She pushes continuously to improve herself, professionally and personally and does not shy away from difficult situations.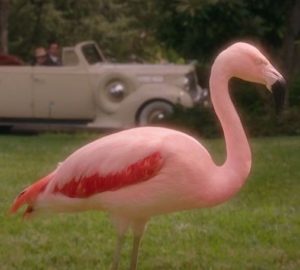 Agent Carter also brought us comedy in spades. Whether it was Stark's complete inability to determine the gravitas of a situation, Carter apologising for beating somebody up or Bernard the flamingo, the writers had an impressive knack of inserting laughs wherever they could. The cast of Carter also took time out to challenge SHIELD, in some of the funniest videos I have ever seen. The Dubsmash wars, between predominantly Hayley Atwell, James D'arcy, Clark Gregg and Chloe Bennet raised money for charity, while pitting the old and new SHIELD against each other. Some of my favourites are below, but take a look at the Dubsmash Wars page for the full experience.
Agents of SHIELD/Agent Carter Dubsmash COMPLETE COMPILATION
Sadly, Agent Carter was cancelled in May 2016. Not long after Peggy died in Captain America: Civil War, her character died in the TV world too. The show may not have set worlds alight, but it certainly held a place in the MCU, and had many more stories to tell. Unfortunately, these stories will remain yet to be told. We can only hope that one day, we get to see a final flourish of Agent Peggy Carter in her prime.