Ever since we heard the news that Amy Hennig, former writer of the Uncharted series, and Jade Raymond, the former boss of the Assassins Creed franchise, would be working on a brand new Star Wars game we couldn't wait to see more. Unfortunately at the EA play event, we didn't get much more than some concept art and a tiny piece of early in-game footage but it looked stunning. Amy Hennig stated that they want to make an authentic and original story set in the Star Wars universe. This isn't Visceral's first incursion into the Sci-Fi world, they are widely known for the fantastic job they did with 2008's terrifying Dead Space which combined third-person action gameplay with tense, atmospheric locations and that experience has seemed to pay off.
But that wasn't the only Star wars related news they dropped. Following their teaser earlier this year, EA has announced a sequel to Star Wars: Battlefront. Battlefront 2 will have "bigger and better worlds." and will use content from "the new movies," though they didn't name any outright. The Battlefront sequel will come out "next year."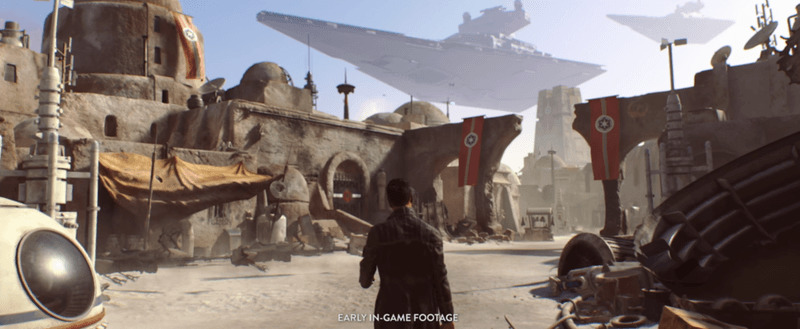 They also spoke of another new game set in the Star Wars universe in the form of Respawn's recently announced third-person action-adventure game. EA didn't provide any details on when it would launch. Respawn are of course well know for the Titanfall franchise.
And finally, a new Star wars VR game from criterion is coming.
Criterion is working on a Star Wars Battlefront VR mission as mentioned in the Star Wars video pic.twitter.com/hqJtE9cf6b

— Wario64 (@Wario64) June 12, 2016
EA Star Wars: A Look Ahead