Developer Squad have announced via Twitter that Kerbal Space Program will be arriving on Xbox One and PS4 this July.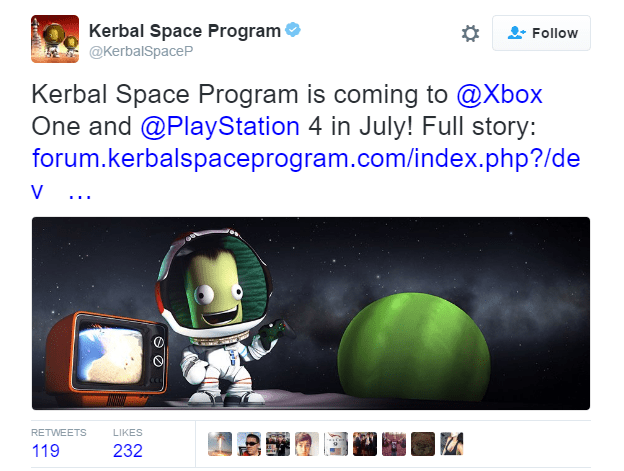 Kerbal Space Program is a space flight simulator in which players direct a space program staffed and crewed by humanoid creatures known as "Kerbals." The game features a realistic orbital physics engine, allowing for real-life orbital maneuvers and tasks players with building their own launch pad and flying their own rocket into space. All aspects of the game rely on authenticity with velocity, fuel and trajectory all coming into play.
The game can be played in three different game modes, "Sandbox" mode, "Science" mode, and "Career" mode.
In sandbox mode, players are free to attempt any mission for which they can construct a suitable vehicle, with no punishments for failure.
In Science mode, the initial selection of parts is limited, with the more advanced parts unlocked via "Science" in the Research and Development building and gained by performing various scientific experiments on Kerbin and throughout the solar system.
Career mode is an extension upon science mode, adding funds, reputation, and contracts. In order to build and launch new rockets, the players must complete contracts to earn funds to pay for the new parts.
CEO of Squad, Ezequiel Ayarza, had this to say about the launch of the game on consoles.
"Following the huge success Kerbal Space Program has had on PC with players and critics alike, we want to give console players the opportunity to play Kerbal Space Program in this redefined user experience. It has been a long road but finally we are confident of the quality of the game on consoles. An awesome control experience awaits you, as well as easier access to the wonderful world of space exploration, where even exploding is a lot of fun. We invite everyone to enjoy the excitement of flying rockets built by yourself, landing on planets and much more!"