With the world currently going Pokémon mad with Pokemon Go, an entirely new generation of  trainers have taken to the streets in the hopes of finding a MewTwo or Chansey.
One thing that is certain is an entire symphony of Pokemon will be London's Eventim Apollo on Monday, December 18 and Tuesday, December 19. as the hugely popular Pokémon: Symphonic Evolutions returns to London for two nights only.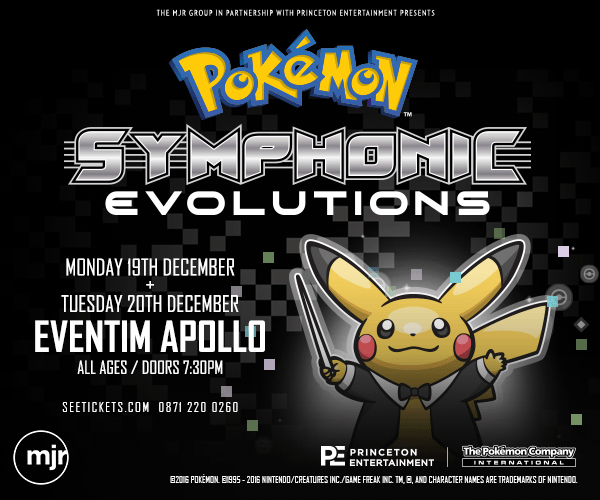 From the team that brought you Zelda Symphony of the Goddesses,Pokémon: Symphonic Evolutions allowing fans new and old experience the Pokémon franchise like never before.
Brought to life by London's own Royal Philharmonic Orchestra performing all new arrangements and carefully timed visuals from recent and classic Pokémon video games,
The music you will here on the night, includes tracks from.
Pokémon Red and Pokémon Blue
Pokémon Yellow
Pokémon Gold and Pokémon Silver
Pokémon Crystal
Pokémon Ruby and Pokémon Sapphire
Pokémon Emerald
Pokémon Diamond and Pokémon Pearl
Pokémon Platinum
Pokémon Black and Pokémon White
Pokémon X and Pokémon Y
Exclusive pre-sale tickets are available now from seetickets.com, with general tickets on sale this Friday, July 29 at eventimapollo.co.uk.