Microsoft's head of Xbox games marketing, Aaron Greenberg, has confirmed the only exclusive games coming to the 6TF Project Scorpio will be virtual reality titles.
The news comes from an interview with Engadget, in which they sat down with the Greenberg for a one on one interview.
"… we said we're not going to have console-exclusive games for Project Scorpio. It's one ecosystem – whether you have an Xbox One S or Project Scorpio, we don't want anyone to be left behind," Greenberg stated. "Now, with the power and capabilities we have, we'll be able to do high-fidelity VR. Now, that space, we don't think of that as console gaming, we think of that as high-fidelity VR, and so with the VR experiences those will be new things that you will get on Project Scorpio."
There has been some confusion as to how the new console would fit into the current Xbox eco-system and it looks as though Scorpio is Microsoft's answer to a VR ready console as many had speculated. Microsoft already has a partnership with Oculus Rift as they currently ship one of their controllers with each VR headset, which suggests Oculus Rift could be Microsoft's partner on the upcoming improved console.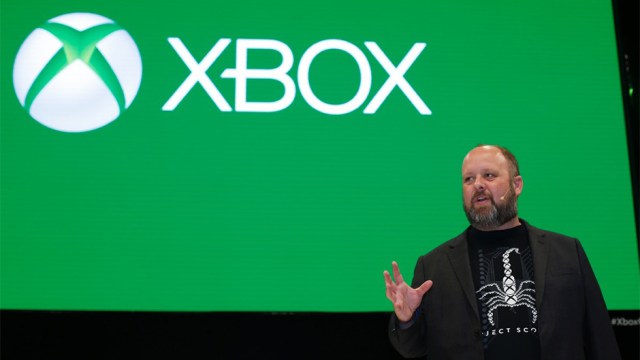 Engadget then asked Greenberg about current peripherals and how they would work with Scorpio.
"Generally when you bring a new iteration of console hardware you lose compatibility with their games and accessories. So we're saying, if you bought games and accessories for your Xbox One, or you buy an Xbox One S, those games and those accessories are going to work on Project Scorpio. When you think about backwards compatibility and our games lineup, we want gamers to know that when they're ready to upgrade to Scorpio, that content will go with them. That's our promise and commitment around compatibility,"
This statement does also raise questions about the difference in graphical fidelity between games on Xbox One and Project Scorpio. Will Scorpio merely play Xbox One games in some sort of backwards compatibility mode or will games be specifically developed to make full use of its more powerful specs, which in turn means more work for developers as they will have to make two versions of one game.
This and many more questions are yet to be answered but I'm sure the answers will appear as we get nearer to launch.