Everybody with their own piece of the Internet to shout vacuously into are posting their lists of their favourite films of the year and, just like last year, I'm doing it too. The best film I saw at the cinema all year was a 20th anniversary screening of The Big Lebowski, but hence it being a 20th anniversary screening, it can't make my list of the best films of 2018. That's not the only rule I've set myself either. I live in the UK and most 'Oscar movies' are released late over here, so last year's big releases are actually considered this year's big releases and I'm only getting around to watching them now so they didn't make the cut. In the same regard, many late 2017 movies actually came out in early 2018 here so the confusion builds even further. For the sake of clarity, I've decided to stay away from those sorts of movies for the most part. But away from all this unnecessary reasoning and faux-justification, plain and simple, I'm just being honest: these are my ten favourite films of the past year.
10 – Bad Times at the El Royale
Now, my list gets off to a bit of a strange start because I haven't actually seen all of Bad Times at the El Royale. With about 30 minutes left there was a power cut at the cinema which meant the whole system had to be rebooted. The film finally started again but 20 minutes before the place we had gotten too and before we could watch anymore there was another power cut. In the end I had to leave without watching the end which still pains me because I was loving the film. Drew Goddard tries his hand at a Tarantino-esque multiple point-of-view period thriller and it was working for me, with a brilliant pace and standout performances, and I enjoyed it more than Tarantino's previous and very similar film The Hateful Eight. I debated whether it was right to include this film on the list but I felt I had to. But who knows, maybe I'll hate the closing thirty minutes when I finally watch them on blu-ray. But if they're anything like the rest of the film, 'Bad Times' is one of the best movies of the year.
9 – Game Night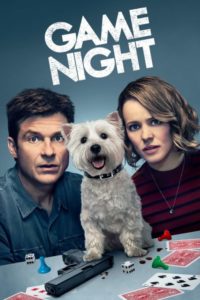 Big, loud and brash studio comedies aren't really my thing so it was a surprise to me that I enjoyed Game Night as much as I did. It's just really funny and the film works as a thriller too, with an engaging plot and echoes of a David Fincher movie. Jason Bateman stars as… well, a Jason Bateman character; this time more Michael Bluth than Marty Byrde. Bateman's Max and Rachel McAdams' Annie gather with their friends for what they think is a regular 'game night' but Max's brother is tired of board games and instead begins a complex game that would see him pretend to be kidnapped and the players have to discover clues to track him down. But Brooks, Max's Brother, is on the wrong side of a gang of criminals and is kidnapped for real with the players believing it's all part of the game and begin tracking him down unaware that Brooks' life is actually at risk. The cast is phenomenal, particularly Billy Magnussen who has had a great year with Black Mirror and Maniac, and Jesse Plemons is the standout as Max and Annie's weird police officer neighbour. Overall, it's a really great and superbly directed mystery-comedy that you should definitely check out.
8 – Mission Impossible: Fallout
The action in Mission Impossible: Fallout is indescribable so I'm not even going to try. The 6th entry in the series is one of the best yet and while the plot is a little too confusing (there are about 8 separate twists in a single scene), as an action movie it's one of the best I've ever seen. Christopher McQuarrie is the best director of action working today and teaming up with Tom Cruise is a match made in heaven. There's a palpable sense of danger to every stunt, from foot chase to HALO jump to helicopter duel, and you won't find a stronger dose of cinematic adrenaline anywhere. It's easily the best blockbuster of the year.
7 – How to Talk to Girls at Parties
Neither a critical or commercial hit, How to Talk to Girls at Parties is a weird little film. The fate of a strict society of alien travellers is dictated by the budding relationship of a roguish member of its ranks and a teenage boy, set upon the backdrop of the punk rock movement in 1970's Croydon. Like I said, a weird little film. It works as a fish-out-of-water story, self-discovery allegory, sci-fi drama and romantic comedy, all fused with great sense of humour and an acceptance of its inherent daftness. It's also a great showcase of underappreciated British comedy talent, as well as having great performances by Nicole Kidman and Elle Fanning. The film certainly isn't for everybody but has all the markings of a future cult classic. I hope the film eventually finds an audience; it's a wonderful little gem.
6 – The Ballad of Buster Scruggs
Over the decades the Coen Brothers have become masters of dark thrillers, wacky comedies and everything in between, and their latest film, The Ballad of Buster Scruggs, brings together everything that makes the Coen Brothers special. The film is an anthology of six different stories of the western genre, each distinguishably Coen Brothers and yet profoundly different. The titular story is a fun and quick ode to old romanticised gunslingers and the last a could-be stage play set within a stage coach full of all the different folks of the wild west locked in a fast-talking argument about their lives and proclivities. I enjoyed every story, though to differing amounts, and find myself still thinking about them all weeks after watching the film. My favourite is easily "All Gold Canyon" which sees Tom Waits as a grizzled prospector searching a beautiful mountain valley for gold and if the story was the whole film then it might be my very favourite of the year. It may not be their best, but The Ballad of Buster Scruggs is the ultimate Coen Brothers movie.
5 – Hereditary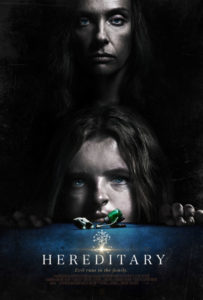 Like many of the best horror films of decades past, Hereditary isn't concerned with horror throughout. It constantly has a sense of dread but it takes time to develop its characters and the film's time spent as a family drama, exploring subjects like grief (just like The Haunting of Hill House on Netflix), makes the horror that much more terrifying. While I'm a fan, horror films rarely scare me but Hereditary is straight-up horrifying, whether in the long drawn out sequences or quick, well-earned jump scares. It's also the most shocking film of the year with twists, revelations and moments that I can still barely believe happened and, even in a small well-behaved screening, fellow cinema-goers were losing their minds over. After a couple of viewings, I'm still not sure if I've worked everything out yet but a part of me never wants to. The film is a satisfying puzzle I'll study for years to come. Oh, and Toni Collette deserves an Oscar.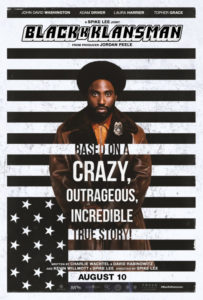 4 – Blackkklansman
One of the most important films of the year also manages to be one of the funniest and most entertaining under the eye of director Spike Lee. Charting the true-life story of the combined effort of an African American cop and a Jewish cop to infiltrate the KKK in 1970's Colorado Springs, Blackkklansman is serious when it needs to be, which at times is very, but uses comedy to underline and emphasise its points on racism and the sheer stupidity – and yet danger – of the KKK members it depicts. This balance could have gone terribly wrong with humour destroying the importance of the film but thankfully the film never topples one way or the other. It remains confident in its tone and manages to offer some of the biggest laughs and some of the most emotional moments of this year in film. John David Washington, Adam Driver and Laura Harrier all give tremendous performances, Terence Blanchard's score is superb and the film ends with a montage that could have come across as unnecessary and seen as turning the film purely into a political message but instead accentuates everything the film has been discussing up to that point.
3 – Annihilation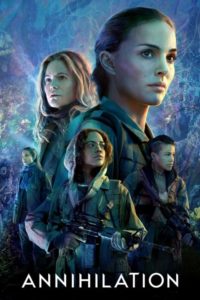 Annihilation is the kind of sci-fi movie that doesn't really get made anymore. It's not some low budget contemplative piece, nor is it a CGI-fest blockbuster. It stays firmly in the middle by offering thrills and insane visuals while keeping the focus on its characters and wider ideas. It works as a mystery and adventure with a team of scientists entering an anomalous quarantine zone known as "The Shimmer" and facing the perils within on their way to discovering its origin; but it also works as a bold and more abstract piece of ambiguous, almost Lynchian sci-fi which doesn't have all the answers but holds enough information to build your own interpretation. It explores its large themes and ideas just as well as it nails individual genre scenes from sci-fi action moments to one of the best scenes of horror all year, with a mutated bear which looks and sounds terrifying. I wish I had gotten to see the film on the big screen – it was a Netflix exclusive everywhere but the US – but it was still enormously effective watching it at home. Annihilation is an incredibly smart and thought-provoking science fiction film that sits in the upper echelon of Alex Garland's incredible body of work from his novels, screenplays and directorial efforts.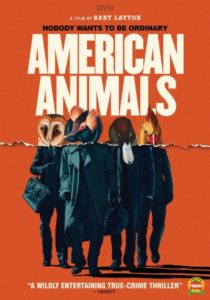 2 – American Animals
American Animals was a film I knew very little about before sitting down to watch it and totally blew me away. The film is both based on a true story and a true story, fusing recreation and documentary, as we see how four students planned and executed the heist of a wealth of valuable books from their university. Not only are the real-life perpetrators interviewed but they interact with the film itself, often disagreeing with how the events are being portrayed and encountering their movie counterparts. It's a novel idea of telling a story that could have been too much of a gimmick, sinking the film with a sense of smugness, but instead the film is better for it. While the characters did some despicable things, its original way of telling the story makes us empathise and understand them in a way either a conventional adaptation or even documentary could not. I know nothing about editing and yet, watching this movie, it's clear that this is a masterclass in that technical aspect. The whole film has an energy and flow and is truly one of the most original and very best films of the year.
1 – Revenge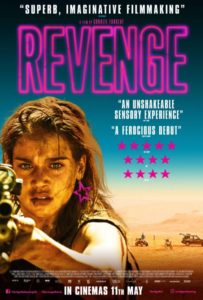 French rape and revenge exploitation action horror films don't come much better than Revenge. The most visually vibrant and violent film of the year is also without a doubt my favourite. Jen is left for dead in the desert after a shocking attack by her boyfriend's friend and embarks on a quest to get her sweet titular revenge. On one hand it has more of a feminist standing than films of similar subject matter because everything is shot from the eye of female director Coraline Fargeat, but it still plays into the tropes we are familiar with. I guess it's as tasteful as such a film can be while still being monumentally violent and bloody. Seeing Jen get her revenge is as satisfying as it is horrific with the amount of blood in the final scene being totally ludicrous and quite funny. The characters are engaging and well thought out with Jen revealed to be incredibly strong-willed while all of the male characters are given their own twists, representing the danger each of them holds. The thought-to-be understanding boyfriend turns out to be the true evil mastermind, the dumb lackey turns out to be highly intelligent and the rapist himself is played for the rest of the movie as a complete buffoon. Visually the film is stunning with desert vistas punctuated by incredibly vibrant colours from Jen's earring to a pane of coloured glass at the solitary house. Revenge is an endlessly surprising and satisfying thriller and my favourite film of 2018.
So, there are my ten favourite films of the past year. Next time I'll be listing my ten favourite television episodes of 2018. But right now please let me know your favourite films of the year and what did you make of my list? Tell me in the comments and geek out with me about TV, movies and video-games on Twitter @kylebrrtt.