Possible spoilers for multiple shows inbound. Read at your own risk.
Last week I posted my top ten films of 2018 and, if I'm honest, that was a very easy list to compile. This week I'm looking back over my favourite episodes of television and I found this one much, much harder. Partly because I've watched too much and yet partly because I haven't watched enough. There's so much content out there that it's a task to keep up, especially when I'm always watching old episodes of Star Trek. I'm not up to date on the latest seasons of some of my favourite shows of the past few years like Ash Vs Evil Dead, Preacher or Daredevil, nor have I found time to watch many of the brand-new critically-acclaimed shows like The Haunting of Hill House. I have been watching a lot of TV but not all of it is top ten material. Gotham for example is a show I love but I could never put it on this list because… well, it's critically pretty rubbish yet enjoyably so. But with much thought I managed to scrape together ten specific episodes of television I enjoyed more than any others over the past year. Now, if you'll excuse me, I'm going to spend all of 2019 catching up on the shows I missed in 2018. Either that or start a new rewatch of The X-Files as well as Star Trek.
10 – Legion Season 2 Episode 7 "Chapter 15"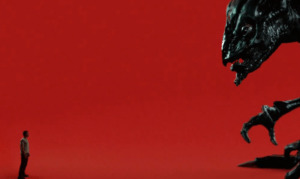 For the most part I found Legion's second season to be disappointing. The expanded episode count seemed to harm the Marvel show which just plodded along and there seemed to be an active and unnecessary attempt to outdo the first season in terms of weirdness until it became near incomprehensible at points. And I like weird shows, just as later choice will prove. There were however a few bright spots and the brightest for me was "Chapter 15". The episode begins with a John Hamm-narrated intro (as every good television episode should in my opinion) about delusions and moral panic before the episode puts that discussion into practice. The villainous Shadow King (or is he the hero now?) has put a delusion into the mind of Ptonomy which is soon spread to several others at Division 3, helpfully represented as eggs and black monsters that live within their human hosts. We get a fantastic montage as fear takes hold of the hosts and a great action scene as the infected battle the robotic Vermillion on their way to kill Admiral Fukyama who they now believe is secretly a villain. Ptonomy perishes before David can stop the parasitic creature for good in a bizarre and twisted standoff that only Legion could pull off. A fantastic episode but it's a shame the season goes downhill from there.
9 – Star Wars Rebels Season 4 Episode 13 "A World between Worlds"
The more Star Wars content there is, the more difficult it is for the franchise to do anything truly surprising or special. Somehow the final season of the animated show Star Wars Rebels managed it this year by going in a direction nobody was expecting: time travel. If you were to ask me if time travel belonged in Star Wars then I would have vehemently said "certainly not" but the series did it in a way that felt right, fresh and unobtrusive on the rest of the franchise while still strengthening the show's connection to the rest of the canon. The titular 'World between Worlds' is some sort of Force dimension that offers doorways (and voices) to the past, present and future specific to Ezra. This could rewrite and destroy everything we know about Star Wars but instead it reinforces the importance of everything that has happened, with Ezra – as well as defeating The Emperor and tying up loose ends by saving Ahsoka – learning that he can't save Kanan because his sacrifice was too important. "The World Between Worlds" is an incredible feat and one of the very best parts of the new era of Star Wars.
8 – The X-Files Season 11 Episode 7 "Rm9sbG93ZXJz"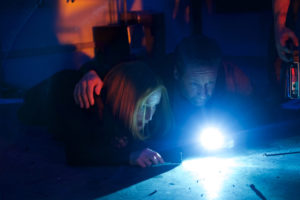 The two-season revival of The X-Files is overall a big disappointment. The always convoluted mythology storyline is worse than ever with the "My Struggle" episodes being truly abysmal episodes of television, but even now, 25 years on, The X-Files manages to bring forth an all time classic. "Rm9sbG93ZXJz" plays out with as little dialogue as possible as we see Mulder and Scully eat at a futuristic (or I guess modern) restaurant while not talking to each other. It's not that their relationship is bad but rather they are too engrossed by their phones to talk anymore. But their obsessions with technology might just mean their demise after the robotic workers in the restaurant turn on the pair after they refuse to pay a tip, first by just being pests before things take a potentially deadly turn. It's the first X-Files episode of the Black Mirror age and offers a thrilling and funny look at our ever-increasing reliance on technology. The episode, along with "The Lost Art of Forehead Sweat", almost makes the season worth it. Almost.
7 – Better Call Saul Season 4 Episode 5 "Quite a Ride"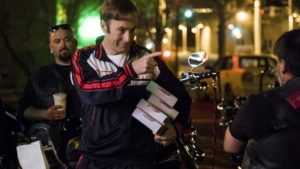 Better Call Saul has been getting better and better with every season and the fourth was no exception. The seasons work as long intricate stories and it was quite hard to pick my one favourite episode from the ten released this year. "Quite a Ride" clinches the victory in my eyes, not for the flashforward cold open which sees Saul amid the Breaking Bad chaos, but because of the progression of both Jimmy and Mike's characters. Mike is now working for Gus and planning the construction of the Meth "superlab" and Jimmy, forcing himself to be constantly active to ignore his feelings about Chuck's death, decides he's not selling enough phones at the store and takes to the streets, donning his Saul persona and giving us one of the best montages from both Breaking Bad and Better Call Saul. My favourite thing about Better Call Saul is the pacing. We're often not sure what a character's goal is or what scheme we're seeing play out but we trust in the writers because every single time (except for that plane crash thing in Breaking Bad's second season) it pays off in a satisfying way and "Quite the Ride" is one of the best examples of that.
6 – Black Mirror Season 4 Episode 1 "USS Callister"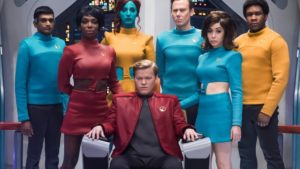 Okay, so the fourth season of Black Mirror actually came out at the very end of 2017 but that was after I had made my 2017 list and because I, like pretty much everyone, watched the episode this year, I'm putting the episode on this year's list. As a Star Trek fan, I appreciate that USS Callister is a playful parody of The Original Series but beneath the bright and overtly funny exterior lies that dark Black Mirror underbelly. It balances its blockbuster tendencies with the dark subject matter with ease and Jesse Plemons is amazing as the episode's villain Robert Daly. At first, we're on Daly's side with him being bullied and underappreciated as he works at a company designing a new multiplayer game but soon it's revealed he's the villain of the piece and creating fully aware and conscious copies of his colleagues to use as playthings in his own private version of the game. Cristin Miloti is great as Daly's latest plaything who refuses to be such a thing and tries to escape the confines of the Star Trek-inspired game. USS Callister is the biggest and funniest Black Mirror episode and is also one of the very best.
5 – Killing Eve Season 1 Episode 4 "Sorry Baby"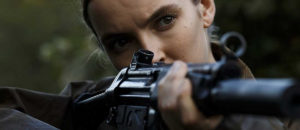 Killing Eve was the biggest televisual surprise of the year and, while I thought the final three episodes of the season were a bit of a let down, the first five are among the best of the year. For me the show peaked with the fourth episode "Sorry Baby" which absolutely nailed the difficult balance of the dramatic, thrilling and comedic tones the show was going for. Villanelle (one of the best television characters in years) hilariously dresses as her handler Konstantin before being forced to team up with two fellow assassins for her next hit while Eve mourns the loss of her friend Sam. Soon both characters are involved in a chase across the English countryside to be the first to get to Frank, a corrupt MI6 agent. The writing is uncharacteristically witty and the direction surprisingly dynamic for a BBC show and the last ten minutes which contains car chases, betrayals and the funniest gags of the season are a testament to how simultaneously thrilling, dark and funny the show can be.
4 – Sharp Objects Episode 7 "Falling"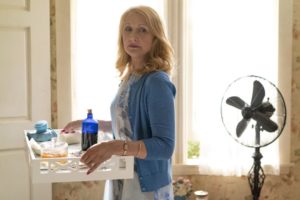 Gillian Flynn's first novel was her last to get adapted with the slim book being turned into an eight-episode miniseries that's more concerned with tone than it is with plot. And everything it tries to do it accomplishes; the sickly warm and uncomfortable atmosphere of the town of Wind Gap coming across with every one of Jean-Marc Vallee's quick cuts. Camille Preaker returns to her home town to investigate the deaths of two young girls and in the penultimate episode she comes across the truth. Or a truth. The truth about her past and her home life. The series is a fantastic character study before it's a mystery but this episode balances both perfectly, even more so than the fantastic finale. The acting is the best on TV all year but even so the star of the series is director Jean-Marc Vallee whose improvisational style fits incredibly well with everything the series is going for. I'm so glad I had read the book before watching the show so I didn't have to be too concerned with following the plot and instead could revel in the atmosphere and pick up on all the hints along the way. It's a perfect little mini-series.
3 – Barry Season 1 Episode 7 "Loud, Fast and Keep Going"
In just eight thirty-minute episodes, Barry – a comedy-drama starring Bill Hader – was able to make me as invested in the titular character's struggle of trying to give up his life as a hitman and turn to acting instead as any multi-season 100-plus-episode drama that I've watched in years. Barry goes from a gang war storyline with dangerous criminals to an LA acting class full of disillusioned wannabe stars and back again, and it's in the seventh episode when both of those worlds reach their peak with Barry having to deal with a botched assassination and also take part in a performance of Macbeth. It manages to be deadly serious in one scene (literally), darkly comedic in the next and then Henry Winkler can walk in and turn the whole show into more of a standard goofy comedy and it works, juggling the tones perfectly. That's a constant between many of my favourite episodes and series of the past year, whether it be Killing Eve, Black Mirror or Better Call Saul. And this year, Barry was the best of the bunch.
2 – Westworld Season 2 Episode 4 "The Riddle of the Sphinx"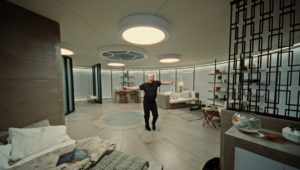 Westworld's second season was far weaker than its first but that was to be expected considering its debut season was one of the best in years. I still enjoyed the twists, turns and complex plotting but I have a feeling that my opinions of the season as a whole might change when I see where the series goes next season. However, my opinion won't change about the season's fourth episode "The Riddle of the Sphinx" which might be the best of the 20 aired so far. The epic action is toned down and instead we get an intimate sci-fi two-man play between William and a host version of James Delos. Delos has died and over the course of several very similar scenes set across multiple decades we see how these new robotic versions of Delos react to the news they aren't human. This stripped back thematic sci-fi should always remain the core of the show and the episode is directed perfectly by Lisa Joy, from the opening tracking shot to the dark western subplot exploring how much of the Man in Black's humanity remains now that the park has no rules. Part of me wishes that I could have put the eighth episode "Kiksuya" on the list instead but overall "The Riddle of the Sphinx" is everything a Westworld episode should be.
1 – Maniac Episode 9 "Utangatta"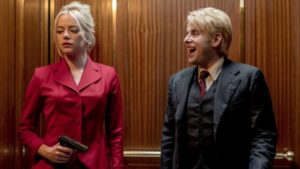 Pharmaceutical drug trials. Suicidal AI. Shared hallucinations of alternate realities. Exploding aliens. Jonah Hill doing a funny accent and dancing. A Rubik's Cube that saves the world. Emma Stone as a spy murdering dozens of minigun-toting henchmen in a long take action sequence. Netflix's unique drama series, the entirety of which is directed by Cary Fukunaga, comes to a head in its penultimate episode which plays like Inception on LSD. While the finale is more toned down and character-focused, "Utangatta" decides that its audience is either onboard or has stopped watching and just goes for it. It manages to be exhilarating (that corridor fight scene has me very excited to see Fukunaga's Bond film), emotional and – like a lot of the series – absurdly funny. Not only is Maniac the best drama of the year but it's the best comedy too. In fact, it's the best of any genre it decides to tackle, from period drama to otherworldly fantasy, and "Utangatta" is Maniac at its peak. It's also Maniac at its most crazy, and while I'm not totally sure I understand everything, I absolutely love it.
So, there are my top ten television episodes of the past year. In my next article I'll return to the world of James Bond, finishing off my Bond Retrospective series with a ranking off all 25 films (Never Say Never Again included). But right now please tell me your list, and what are the shows I really need to check out? Let me know in the comments and geek out with me about TV, movies and video-games on Twitter @kylebrrtt.