New console, new characters, new story, new trilogy. I started this 'First Time Playing' series as an effort to catch up on the Xbox exclusive games I missed out on while being a PlayStation gamer in the PS3/360 generation. In terms of the Gears of War franchise, that mission is now complete. While I have been performing a balancing act of playing games on both consoles over the last few years, I had yet to play Gears of War 4 because, when I play a game in a series, my rule is I have to have played all the preceding games first. So here I am, nearing the end of August 2019 and just a couple of weeks away from release of Gears 5 and I can finally play Gears 4 and finish my 'First Time Playing' series. Well, for Gears of War at least (Halo is calling me now). I've been growing into a bigger fan with each instalment of the franchise, with just a brief hiccup with Judgement, and it'll be interesting to see how my thoughts on the series will change as we enter this new phase of Gears of War.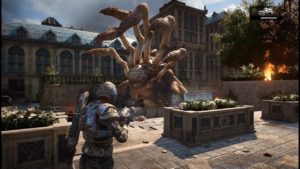 I say "New console, new characters, new story, new trilogy" but in actual fact Gears 4 begins by luring us in with something familiar. The prologue flashes us back in time to briefly take part in three battles that both set up the world of Gears of War as well as act as a tutorial to learn – or re-learn – the controls. It's a clever way to do it and it's fun to see locations we've seen before, now with a 2016 makeover. One even takes place during the Pendulum Wars, an oft-mentioned but never seen conflict in the canon, and I couldn't wait to finally witness it, especially with it set during one of the most famous battles in the war. Sadly however, it was just a small dull mission and the worst out of the whole game. A massive missed opportunity. But then the game truly starts and it certainly is attempting something new.
It's peace time on Sera and, after the 'death' of the Locust forces, humanity is surviving in this new world. But at a cost. The once heroic COG forces have become an authoritarian state governed by First Minister Jinn in order to protect what little remains of humanity. Most live in walled cities that they can't leave, protected by DeeBee robots and even babies are being genetically engineered to aid humanity's survival. Others however do live in the wild and have an antagonistic relationship with the COG forces. They're known as 'Outsiders' and they live more simply and freely, yet are more in danger of Sera's wildlife and furious weather, putting the future of the race at stake. This is certainly a bold move for the franchise. There's a new status quo with nuances to the opposing sides. No longer are there clear-cut heroes and villains but characters with realistic motivations spawned from this new era Sera finds itself in. The more simplistic military shooter concept of a squad of macho heroes with huge weapons and ludicrous amounts of ammunition cutting down waves of mindless drones has evolved. I can see some fans being upset by that if they liked the series for that simplicity but, for me, that hasn't been taken away. It's simply that these new aspects are just another layer on top of that old version. The core of the franchise is still there and anytime this new layer – this new veneer – is in danger of smothering that Gears core, it releases its grip and lets it breathe.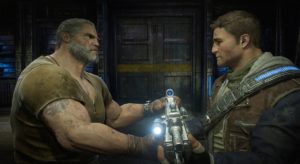 The protagonist of the game is JD Fenix, son of the previous games' hero Marcus Fenix. He was once a soldier for the COG, only to leave with his buddy Del after disagreeing with their extreme methods of preservation of order. They join up with a band of Outsiders, including Kait Diaz, and soon find themselves the enemy of Jinn's COG forces as well as some seemingly resurrected Locust known as 'The Swarm'. With Kait's mother taken by The Swarm, JD and his crew seek aid from the only man who can help them: Marcus Fenix. The Gears games seem to have a reputation for just being dumb fun, and while Gears 4 does get progressively dumber as it goes along, I think it begins with some quite competent videogame storytelling. Not just in the basic setup and world-building, but how it subtly gets across information to the player in a way only a videogame can. For example, in the prologue you fight against UIR forces that are using Markza rifles. Then in Act 1, that's the type of gun that protagonist JD is using which instantly informs the player that he's an outcast using scrounged weapons and is definitely no longer COG.
Maybe it's just because I've been spending my time playing previous generation games recently but I was shocked at how good Gears of War 4 looked. The locations are much more varied and the series has come a long way from the 'everything is grey' mentality of the first game, which reflects the peace time Sera currently finds itself in. The forest environments and newly built cities all look stunning and when the game does return to the more standard Gears settings of dark industrial corridors and destroyed cities, they look better than they ever have before. Just the lighting in Acts 3 and 4 – set in an old castle, mines and a dilapidated dam – is perfect and really adds to the horror atmosphere, rather than just being a straight-forward shooter like Gears often slips into being. The night sky in these sequences even looks like an old matte painting and really enhances the style.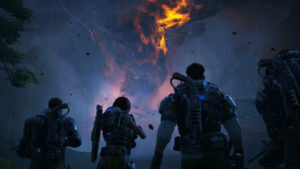 The console generation leap is incredibly noticeable and at times the game is actively trying to get you to notice it. No more so than with the huge storms called Windflares that are ravaging the surface of the planet. They're a great addition to the franchise, not just because of how cool they look but the way they change the gameplay too. Bullet paths will curve in the wind, grenades can come flying back at you and bodies of downed enemies will be carried away by the strong winds. It's very satisfying to turn a body into paste and chunks and watch it float away. To separate a head from a body and see it fly away into the horizon without ever dropping to the ground. The issue is that they are used far too frequently. Almost every time you go outside someone will suddenly shout, "Windflare!". They're brilliant but the developers clearly know that and rely on them far too often.
What surprised me most about Gears of War 4 was the lack of any real changes to the core gameplay. You don't want to change too much of course; those previous games pretty much nailed it. Gears 4 is a joy to play and feels like a slightly refined version of the older games but considering the jump from Xbox One to Xbox 360 I had expected more. It feels like the developers were much more comfortable playing with the narrative and status quo of the world than they were with altering the gameplay. There's also a lack of new weapons too. Sure, there are a couple of new guns like the Enforcer but none of them stand out. Just like the previous games, my inventory of a Lancer and a Gnasher shotgun rarely changed throughout the game. They're the perfect weapons for Gears and I wish the developers had mixed up the surroundings and what guns were available a bit more so I would be forced to use some other weapons. There is a weapon called the Buzzkill which fires circular saw blades that can bounce off objects which is fun to use, but that weapon is now in pretty much every shooter franchise going. I was just using one in Far Cry: New Dawn the other day.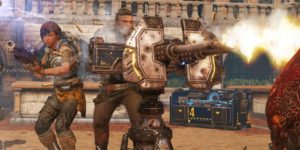 The defensive sections from Gears of War: Judgement, where you are tasked with defending a particular area from waves of enemies, return in Gears of War 4 and they didn't piss me off half as much as I was expecting. I did not care for Judgement at all so seeing something from that game reappear initially annoyed me but these sections of the game were done much better this time around. I still don't like them that much; I'd rather always be moving forward than staying in the same area for a large amount of time, but they never went on too long and were few and far between. There's a little added depth to them now because you can purchase which defensive items you want, whether it be turrets or barricades, from a fabricator instead of just using whatever the game gives you like in Judgement. I always bought the exact same things so the system was a little redundant but I enjoyed the evolution of these sections, especially with the rest of the gameplay being so samey.
What is different in Gears 4, at least initially, are the new enemies and I think the DeeBee robots are a great addition to the series. They may not seem like the right sort of enemies for a Gears game but I thought they worked really well. They provide variety and a break from the Locust, or The Swarm (more on those later), and fit in well with the world. It makes sense that the COG doesn't have human soldiers. The human race is few in numbers and the robots fit in with the authoritarian control the COG now has. Plus, it'd be a step too far, outcasts or not, for the main characters to start killing human enemies. The DeeBee bots are released onto the battlefield in cool looking Drop Pods that are released by planes, bouncing and destroying the environment before they pop open to reveal the mechanical death machines within and that's just really cool. These new COG forces also offer a new and refreshing way to reintroduce the old formula for boss battles. My favourite is the plane you have to destroy in Act 2 where, instead of shooting limbs and Imulsion buboes like you would with flesh and blood enemies in previous games, you have to shoot the engines, weapons and core instead. All while driving a motorcycle at high speeds. It's a fantastic sequence.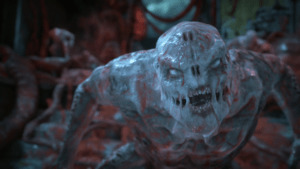 And then we get to the Locust enemies, or 'The Swarm' as they're rebranded here. They're basically the Locust but gooey instead of scaly and they're… okay. They feel a bit like Necromorphs from Dead Space and the enemy variance is surprisingly small. You've got the drones which are essentially the Locust from the previous games, super strong ones that increase the health and damage of the drones around them and then there's the very weak but fast zombie-like ones. And that's all I can remember. If there are more then I've forgotten them. They remind me a little of the Borg from Star Trek too in that they plug themselves into little gloopy docking stations and have what seems to be a hive mind. They seem to be more animalistic and less intelligent than the Locust too, which I'm not sure I'm a fan of.
What I definitely don't like is the origin of The Swarm. It turns out the Locust didn't all die at the end of Gears 3, which completely undercuts the ending of that game, but rather they were undergoing a metamorphosis. Decades later, they've now awoken and ready to take on the humans once again, resetting the conflict back to how it was in the earlier games. The metamorphosis leaves some of the original Locust alive and the rest, using the bodies of humans, transform into The Swarm. The simplicity in their return does weaken the end of Gears of War 3 and I wish the writers came up with another way for the villains to return. I would rather all those Locust have stayed dead and instead have the Locust that were killed by the Lightmass bomb at the end of the first game be the ones who survived. The Lightmass was a new technology for humans and so they may not have fully understood it. Instead of killing them it could have put them into a hibernation and now, 20 odd years later, they've awoken. That wouldn't undercut Gears 3 and would explain why the Locust would need to evolve and create The Swarm. Only the few that were hit with the Lightmass would now be alive and so they need to bulk out their number with The Swarm, much like humans do with DeeBees.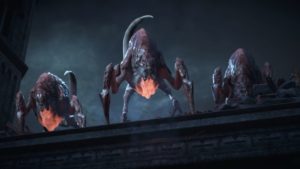 The Swarm also have some monster-type enemies too, which make for fun creatures to battle but I don't see how their sudden appearance makes sense. The Locust survive and The Swarm is created, sure whatever, but where did the Snatchers and Pouncers come from? They're large animals on four legs that aid The Swarm, either by capturing humans or just killing them, but surely the Locust didn't evolve into such radically different creatures. And if not, then why didn't we see them in the previous games? Gameplay wise they are a cool inclusion but there's no explanation for them that I can think of. What's worse is that the Pouncers shoot out spikes that can hack into electronics and take control of the DeeBee robots. This is pure set up for the sequel with it only happening once in the game and I don't like it. It seems really dumb. I could buy that the clever Locust drones that can at least speak could possibly hack the robots but not the monsters that shoot spikes from their tail. The game tries to give a half-arsed explanation for it but then stops and has the characters themselves joke about how silly it is.
It seems to me that between this console generation jump, the Xbox exclusive games have started to take influence from some PlayStation exclusives. Namely, in Gears of War 4's case, the Uncharted series. Firstly, the locations the game is set in reminded me more of Uncharted rather than the previous Gears games, and that's no bad thing. 5 games in we've explored so many crumbling cityscapes and semi-collapsed buildings that most of the locations in Gears 4 feel refreshing. The prefab city that's building itself in Act 1 is a great location to explore and a good way of introducing the new lore. Acts 2 and 3 take place in locations that feel the most like the Uncharted series, with Marcus's Farm feeling similar to the French chateau that burns down in Uncharted 3 and the medieval castle where we first encounter The Swarm feeling like any number of Uncharted locales. Later on, we get to traverse the more standard Gears locations like an old geothermal dam and a dilapidated town. I like that the game builds to these more familiar locations because it seems to want to introduce new characters, world-building and locations at the start of the game and then, as the story builds, begin to add the familiar aspects, with returning characters and oft-encountered locations, so by the end of the game it feels like a Gears game of old.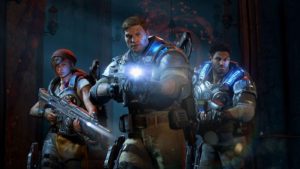 It's not just the locations that gave me an Uncharted vibe but some of the dialogue and banter between characters seemed to imitate that franchise too. And a poor imitation at that. The previous Gears had some pithy one-liners to offer a brief reprieve from the hyper-violence, mainly from the character of Baird, but here it seems particularly prevalent. Some of it is fun and endearing, and builds a connection with the characters, but often it just tries too hard. In a particularly Uncharted move, the characters of JD and Del play an impromptu game of 'Rock, Paper, Scissors' to decide who leads and it feels completely out of place, especially when Marcus has just been taken and feared dead. At one point there's a fun "Are we clear?" joke that pokes fun at the videogame trope of characters somehow knowing when all the enemies are defeated and it's time to move on. What makes it better is that there's no audible guitar twang, a non-diegetic signal to the gamer that the area is free of enemies, so we know it's not clear but the characters don't and JD gets chastised for saying it's clear when that turns out to be incorrect. But then the game takes it way too far and turns a funny moment into a running joke that continues all the way through the game and it soon becomes grating.
A complaint I had with Gears of War 2, my favourite in the series, was that it was Dom's story of searching for his wife and yet we were playing as Marcus the whole time. Gears 4 has a similar issue because in many ways it should be Kait's game. Her mother is taken by The Swarm and that becomes the impetus for the adventure and yet we play as JD for the entire game. But I'm okay with this in this instance because this is a start of a new trilogy and concerns itself with introducing new lore and backstory, so it's best for the playable character in this introductory chapter to be directly connected to the previous games to make that transition smooth. I am happy to learn that Kait will be the protagonist in Gears 5 though. She's by far the most interesting of the new characters, having grown up as an Outsider and is therefore the most antagonistic towards the COG. The ending of the game also implies that she's the granddaughter of the Locust Queen from the original trilogy, which is a development I'm intrigued by. Both because it's a fun direction to take the character and because it might offer answers to how a human became the leader of the Locust.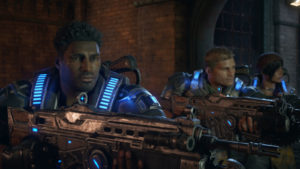 JD himself, the son of Marcus Fenix and Anya, is perfectly fine if not a little bland. Perfect for an unobtrusive POV into this new world but little else. And Del is, well, I don't know. He's just the guy who's along for the ride and gets little characterisation. Sometimes he's smart and other times he's dumb. I hope in the sequels the writers can, you know, turn him into an actual character. There is one Del moment I do like though, when he describes a castle he's just entered as being from "Kings and wizards' days". Maybe he's just dumber than I thought but I like to imagine that the exact nature of Sera's history has been lost. People know the Pendulum wars, COG, UIR and Locust Wars but the history before these conflicts died with most of the planet's citizens during them. People born in this new era confuse myth with history. I can't imagine anyone's writing history books anymore and I think this is an interesting little detail for a post-apocalyptic world.
The game doesn't just feature new characters though. Certain 'legacy characters' appear too, albeit briefly. Hoffman makes a cameo at the start of the game and then of course Marcus appears in Act 2. Believe it or not, he's now even more grizzled after his wife Anya has died and he's fallen out of favour with the new COG. Now he spends his time growing tomatoes until JD returns and brings him back into the fight. He serves the role of the old war vet who now has to help guide the next generation fairly well but, almost as soon as he's introduced, he gets captured by The Swarm and is gone for most of Act 3. I'm sure this is to further build the relationship between the new characters before the old characters take the stage but it makes me wish Marcus had been introduced later rather than early on. As it stands the first thing that happens when he faces The Swarm is get captured and needs rescuing, which doesn't serve the character particularly well. Baird and Cole return in the final few minutes of the game and, while I'm sure some fans were disappointed by this, I'm okay with it. I like what they do with Baird a lot, with him having created the robotic DeeBee army for the COG but turning against them soon afterwards. He does a lot with his short amount of screen time. Cole on the other hand gets nothing to do and has no interesting backstory. He has all but five lines of dialogue, gives one of his enthusiastic whoops and then is completely forgotten about.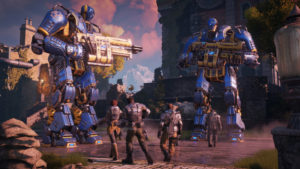 The appearance of Baird and Cole marks the beginning of the end and it's definitely an unexpected ending. Out of nowhere we get given some ginormous mechs the size of buildings to take control of to rescue Kait's mother. One of the universal tenants of gaming is that "mechs are fun" and Gears 4 is no exception. There's a cool translation of the usual Gears mechanics in the mech section, like how you can still take cover like usual, but instead of a burned-out car or bollard, you take cover behind a semi-detached house. The only bizarre issue is that because the standard controls for JD are so weighty, the huge mech which should feel even weightier instead feels much lighter and easier to control. The final boss is a big… err…. thing with tendrils and teeth and all that nasty stuff and you defeat it by using a downed helicopter as a weapon, cutting off its appendages and brain stem with the spinning blades. It's pretty dumb but since when has Gears ever let being dumb get in the way of doing something cool. And it certainly is cool.
And then the game ends. The worst thing about the ending is how totally abrupt it feels. I was expecting a fight down into the caverns to rescue Kait's mum but once you jam the chopper blades into the boss's head it cuts straight to a brief cutscene of the crew finding Kait's mother, Kait having to kill her, finding out she's related to Queen Myrrah and then roll credits. Just as the plot finally got going it all ends. Thankfully we're only a couple of weeks away from the sequel and I won't have to wait three years to find out what happens next. The rushed ending highlights one of the game's major faults and that's the pacing. I think the start of the game is fantastic and introduces this new era for Sera really well while keeping the action steady, but the middle of the game, particularly Act 3, drags. There's little plot other than find Marcus and it's just wave after wave of enemies. Then the final act or so is great as characters reunite and the plot gets going again before the credits suddenly roll. The previous games certainly had issues with pacing but none of them quite this severe.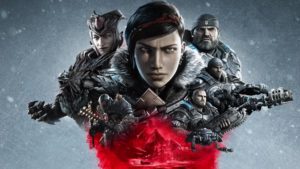 So how does my fandom fare after playing the first part in this new trilogy? Pretty strong to be honest. I really like the world building and set up of the game but it loses its way around the midpoint, becoming slower and repetitive, before a fun yet abrupt ending. But I had a blast playing it and I'm excited to see where the franchise goes in the future. I started this series having never played a Gears of War game, grew into a fan playing Gears 2 and Gears 3, and now, having completed Gears 4, I'm an up-to-date fan. Gears of War 4 isn't my favourite of the series and I have issues with it but it's not my least favourite either. It's a fairly strong sequel that beckons in a new era for the franchise. An era that continues in just a couple of weeks with the release of Gears 5. I can't wait to be able to play it at launch with people that have been Gears fans for much longer than I have, and have a collective 'first time playing'.
What do you think of Gears of War 4? Are you excited for Gears 5? Let me know in the comments and geek out with me about TV, movies and video-games on Twitter @kylebrrtt.