The biggest DragonBall Super Card Game event in the UK has come to a close. 292 registered for the event with 287 players battling it out across nine hard thought rounds of swiss which saw decks new and old rising up through the tables and falling off. For once being on the outside gave a truly unique perspective and so in this tournament report, I will endeavor to make sure I cover as much as possible.
Firstly the event was run by Tournament Center and sponsored by UltraPro, it was efficiently run making the nine rounds as smooth as possible. This was of course made possible due to the amazing judge team that was present to keep games running without incident. It is only fair to give these judges a shoutout so a huge thank you to Max Fox as Assistant Head Judge and the Floor Judges: Leighton Pointer, Cameron McGoldrick, Stef Leenen, Steven Sinclair, Liam Sale, Bradley Whitmore, Ian Hinchley, Azeem Lone (steam judge) Ed Ajenjo and Yeray Sobrino Moron. The head judge of the event was Piotr Ślusarski. 
The nine rounds of swiss concluded, and 16 players were left standing and to the shock of Azeem and myself there was no Shenron in top cut a deck touted as one of the best decks in this format had proved incapable of making it better still the OG meta defining leader Soul Striker Son Goku managed to take a top spot!
The top 16 consisted of 3 x U6 Broly apes : 18,8%, 3 x Vegeta Baby: 18,8%, 2 x Broly apes: 12,6%, 2 x Tri-Nemba: 12,6%, 1 x BTG Gogeta BR: 6,3%, 1 x Lord slug: 6,3%, 1 x KidKu Blue: 6,3%, 1 x Traitor Dende: 6,3%, 1 x Soul striker: 6,3% and 1 x Porunga: 6,3%. Notably, there was no Pan, Towa or as mentioned above Shenron making the top cut which was definitely meta relevant decks going into the Finals. Overall the total deck breakdown is as follows 33 x Broly the awakened Threat, 30 x Shenron, 23 x Towa, Chaos bringer, 22 x Pan, Ready to fight, 20 x Porunga, 18 x Relentless speed Janemba, 18 x Saiyan power Vegeta Baby, 15 x SSB Gogeta Fusion perfected, 7 x Lord slug, 2 x Soul Striker, 2 x Dende and 69 x Other decks. Which makes the lack of certain decks in top cut even more shocking. Numbers provided by Tournament Center.
The final two decks where Gogeta BR piloted by Diego Bertholet and Broly U6 Apes behind Aaron Copping's control. This was a grudge match as both players had history and going into the finals the record was 1-1 apiece so this was not only a match to decide the EU Finals winner but also a match with a friendly rivalry destined to be settled. It was also a case of life imitating art with it being a showdown between Gogeta and Broly as we saw in the latest DragonBall Super Movie.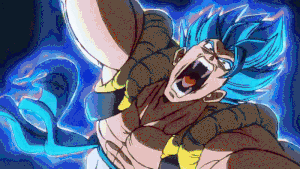 After the dust had settled on an amazing final it was Diego that would leave the table the victor. It was an excellent match between two of the EU's best players Aaron having only lost once in swiss in the past 3 major tournaments. Both players, as well as all other players that had featured matches, showed a great sense of sportsmanship with notable moments friendship being shown throughout. It is also important to note that the top 16 players all received invites to Brussels to battle against the top 16 from France and Italy.
First Place was: Diego Bertholet's BTG Gogeta BR:
https://www.dbs-decks.com/#!/deck/239045
Second Place was: Aaron Copping's U6 Broly Apes:
https://www.dbs-decks.com/#!/deck/239043
Third Place was: Joe Dunthorn's Tri-Nemba deck:
https://www.dbs-decks.com/#!/deck/239051
Fourth Pace was: Jet Yau's U6 Broly Apes:
https://www.dbs-decks.com/#!/deck/239048
Fifth to Eighth place were:
Emad Kashy: https://www.dbs-decks.com/#!/deck/238358
Man Hiem Cheung: https://www.dbs-decks.com/#!/deck/238120
Augusto Gavaia: https://www.dbs-decks.com/#!/deck/238116
Ryan Sheldon: https://www.dbs-decks.com/#!/deck/238341
Ninth to Sixteenth were:
Raul Diaz Falguera: https://www.dbs-decks.com/#!/deck/239036
Adam Evans: https://www.dbs-decks.com/#!/deck/238834
Nathan Hills: https://www.dbs-decks.com/#!/deck/239038
Michael Silk: https://www.dbs-decks.com/#!/deck/238831
Anthony Francis: https://www.dbs-decks.com/#!/deck/239031
Charly Mulholland: https://www.dbs-decks.com/#!/deck/238821
Wim Eliano: https://www.dbs-decks.com/#!/deck/238841
Mathias Tugores Palmer: https://www.dbs-decks.com/#!/deck/238828
Deck Profiles for the top 16 can be found on MyWifeHatesGames here you can find Diego's deck profile amongst others including the most talked-about deck at the event Adam Evan's Soul Striker. I believe in the coming weeks he will be expanding to the top 32.
If you want to catch up on any of the featured action including some post-match interviews conducted by myself head on over to the London Players Guild channel over on twitch. It is also important to shout out the vendor KaiOfCards who was brought a dinosaur full of coins in order to give players change (true story). The store page can be found here.
A few notable shoutouts here at the end is that of Jurgen and Emma who made this event possible, Jurgen kept everyone informed and made sure the event was as smooth as butter and Emma our new community manager for Play DragonBall was incredibly receptive to feedback as well as jumped straight in at the deep end to be part of this Super community. If you wish to join in with discussions please join the conversation over on facebook.
On a personal note, I would like to say a big thank you to all the players who came up and said hello it was lovely interacting with you all and also thank you to Tournament Center and London Players Guild for taking a chance on me in the commentary booth I hope to do it again. This event proved to show that this game has much more room to grow and I know plans are in place to help see that this continues. With the announcement of Worlds for next year, this was an amazing season finale, what lies in wait? what will take over the meta next? Find out in Brussels for the next chapter of DragonBall Super Card Game.