After a lengthy wait, Ozark returned to our screens for a third season of money laundering, startling violence and intense family drama earlier this year. It may have been the show's best season yet, further cementing its own identity in the crowded streaming landscape, and after the disappointing news that Mindhunter is unlikely to return, Ozark is probably my favourite Netflix original series. With the announcement that the extended fourth season is to be its last, I think the series is likely to return with a radically changed status quo. Ruth is working to build Darlene's empire, Jonah is threatening to disrupt the Byrde family homelife, and Marty and Wendy are firmly embedded in Navarro's cartel, now with an FBI agent unwittingly aiding them. The shocking twists of the third season will no doubt have huge consequences for every character and I can't wait to see them play out. Here's some of what I hope to see when Ozark returns for its fourth and final season:
Let's pick up where we left off.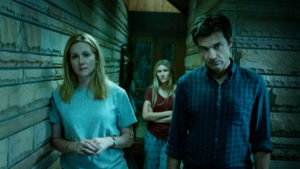 The third season finale promised a lot for the future of the series and I hope we get to witness the immediate future rather than have another time jump. There was a substantial jump in the timeline between the second and third seasons which was initially a little disorientating. "Wait, wasn't Charlotte suing the family? Didn't the Kansas City Mob just blow up their office? Do they know Petty is dead?" While all these questions are answered through dialogue in the premiere, the repercussions of season two's events feel somewhat lessened when we jump ahead by six months. The conflict with the Kansas City Mob has been worked out offscreen, as has Charlotte's reintegration into the family. And honestly, this was probably a good decision because it allowed for the superior storylines of the third season to take off, and having the casino up and running rather just opened was the key to much of the drama. Plus, the time jump offered an explanation for the aging of the younger cast between seasons. But I feel the fourth season should pick up immediately after the third season finale. I want to see the instant fallout of Helen's death, and it would allow for emotions surrounding Ben's death to still be raw, fuelling both Ruth and Jonah's rage.
Just let Ruth be happy. At least for a little while.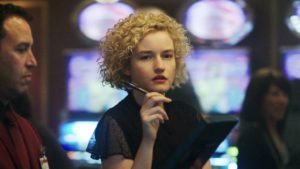 Poor Ruth. After her loneliness was excellently portrayed in the opening episodes of the season, Ruth finally found companionship with Ben only for it to be ripped away from her by Ben's mental illness and Helen's fury. Tom Pelphrey – who I'd only previously seen in the lacklustre Iron Fist – was incredible as the bipolar Ben Byrde, and because the audience grew to care about that character, we completely sympathise with Ruth's anguish following his death. While Darlene's poppy farm is hardly Butlins, I hope after so much loss and heartache that the writers allow Ruth to find some happiness, if not just for the opening few episodes. Not only because I care about the character but also because her pain is threatening to become formulaic. Every season someone close to her is killed, whether it's her uncles in the first, her father in the second, or Ben in the third, and so I hope the writers find some other drama for Ruth moving forward. I'm sure there'll be more tension between her and the recently de-manned Frank Jr, and with Darlene too once her true agenda – using Wyatt to lure Ruth away from the Byrdes – is revealed. Just don't kill Wyatt!
Jonah at the centre of the Byrde family internal strife.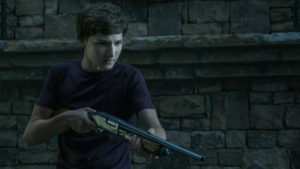 Not only does the Byrde family have to contend with murderous drug cartels and persistent FBI agents but they also have to battle threats from within. Other than Charlotte's push back in previous seasons, the family conflict has been between Marty and Wendy. But after a season of their relationship being more tense than ever, they've seemingly adopted the same mindset. After starting the season wishing to leave, Marty has a reunion with the deepest and darkest wellsprings of his being after being kidnapped by Navarro. Meanwhile, Wendy begins the third season with a frightening determination to do whatever is necessary but is later humbled and shaken by the death of Ben and Navarro's use of her. At the season's end they've met somewhere in the middle and are more united than ever. While I'm sure some level of marital strife will continue, it's Jonah that should be causing family discourse. We see from the finale that he is willing to threaten Helen at gunpoint and shoots out a window in the family home when he discovers his mother is responsible for Ben's death. I'm sure the hole Jonah shoots in the family home will come to prove symbolic during the fourth season. Wendy has previously worried that Jonah may be too much like Ben, which could indicate Jonah will become a problem for the family's continued survival, just like his uncle.
Development for Nelson.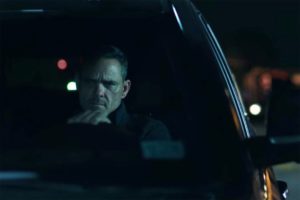 For the past two seasons, Nelson has been Helen's personal driver and occasional hitman, but that doesn't stop him from putting a bullet in her head on Navarro's orders. So, what's to become of Nelson now? I think it makes perfect logical and dramatic sense for Nelson to now be Marty and Wendy's driver and triggerman. Not only have they risen in cartel stature after Helen's death and get their own goon as a gift, but Navarro will want to keep a pair of loyal eyes on his money launderers. Having the person who killed Ben become a substantial part of the family's life would certainly create some tension, especially with Jonah, and it would be the perfect opportunity to develop the scary, unfeeling assassin into an engaging character. He would be a fascinating antagonist for the season considering in the span of just four episodes he killed Sue, Ben and Helen. And it's not just Nelson who would return to the Ozarks with Marty and Wendy but Navarro's kids too. After Helen's death they'll need a new safe place to live. Although it's going to be unbelievably suspicious when the FBI discover the Byrde family are now raising the children of a drug kingpin.
Put a face to the name.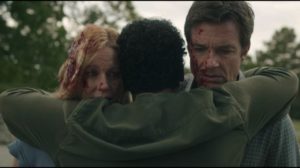 Ozark's third season introduced a background storyline of a gang war between cartels, with the audience being privy to flashes of violence as the war escalates. The Navarro cartel is losing the war but the events of the finale may have turned the tide in their favour, with Marty giving Maya the evidence needed to launch a counter-operation on the rival Lagunas cartel, no doubt being why Navarro chose the Byrdes over Helen in the end. With the third season introducing Navarro, I think it would be interesting for the fourth to feature a character representing the Lagunas. If the rivals are now on the back foot then a counterattack against the Byrdes could be on the table, and I'd like to see a cartel threat from outside their own faction in season four. We know that Lagunas owns a horse in the US so maybe he has other businesses and contacts in the Missouri area too. Maybe his version of Helen makes contact with Wendy, or who's to say Lagunas hasn't got his own version of Marty laundering his money.
More Sam!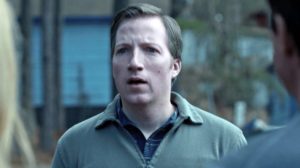 After the absolute mayhem and twists of the third season finale, it's easy to forget that the episode began with Sam Dermody being arrested for aiding Marty in his money laundering schemes. Well, after he proposes to his girlfriend with a ring made of his mother's remains. That's why I love Sam as a character so much: he brings some much-needed levity and humour to what can be a very dark show. It's no secret that the series is clearly inspired by Breaking Bad – although it's certainly carved out its own identity for itself these past few years – and Ozark doesn't forget that Breaking Bad was often funny. Sam is the key to this well-executed mix of tones and his scene with Marty in the penultimate episode, in which he hilariously mistakes Marty's profanity-filled outburst about Ben's return to be aimed at him, created some much-needed humour in the show's darkest episode. Kevin L. Johnson delivers a wonderful performance as the lovable, odd and hopelessly naïve Sam who gets mixed up in Marty's schemes. Sam's purpose in the show is more than just comedy however. He displays how the Byrdes affect the regular folk of the region as they grow in power, manipulating people like Sam when they're not pursing murderous machinations or hosting REO Speedwagon concerts. After his arrest I fear the Byrdes will see Sam as a loose end needing to be cut, leading him to a fateful encounter with Nelson. But I hope not. It'd be great for Sam to prove himself in an unexpected way and not just be the victim of Marty's manipulations in the fourth season.
So, I think that about does it. Six hopes I have for the next season of Ozark, although given the production chaos most series find themselves in because of the current pandemic, when the show will return is unknown. What are your hopes for Ozark season 4? Let me know in the comments and be sure to geek out with me about TV, movies and video-games on Twitter @kylebrrtt.