So after the various rumors and reports that the new Call of Duty will carry the subtitle Infinite Warfare and will be set in space, Infinity Ward releases the full trailer and confirms just that. All set to a cover of space oddity.
As you can see, Call of Duty: Infinite Warfare will be out November 4, and will feature  big battles in big spaceships. The trailer also reveals one of the most popular games in the franchise will be getting a remaster. Call of Duty: Modern Warfare Remastered will feature the main campaign and 10 multiplayer maps. You can go ahead and assume that means we will not be getting the game as a backward compatible title anytime soon.
It's strange that we live in a world where our Call of Duty games have space battles and our Star wars: Battlefronts don't…
UPDATE: 
After a brief livestream on Twitch we have some new information,
Infinite Warfare now available to preorder on PS4 & Xbox One Store
Xbox One preorder includes 1000 Call of Duty points for use on Black Ops 3
Playstation 4 preorder includes 1000 Call of Duty points & theme
Infinite Warfare includes a mission on an asteroid spinning close to the sun
There will be multiplayer maps on other planets and on a space station
All new Zombie campaign included with plenty of easter eggs
MW Remaster will feature reworked dynamic lighting, textures, audio & visual effects
10 multiplayer maps in MW Remaster including Backlot, Crash, Crossfire and Wetwork
We also have a small description of the movement system in the new game.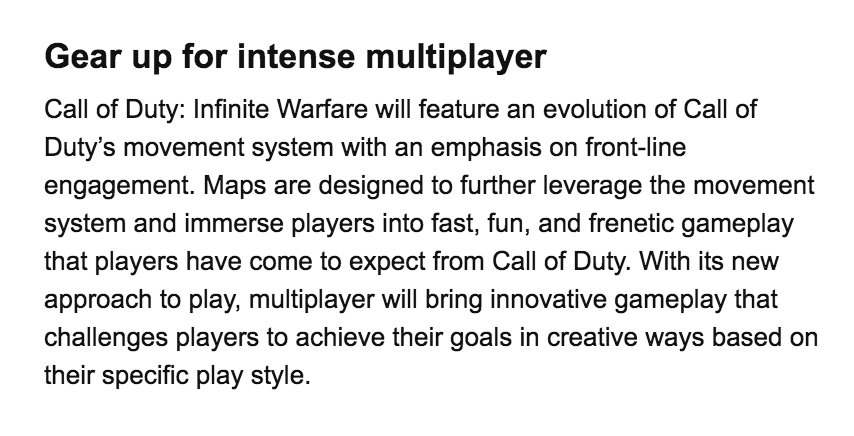 That's the biggest news from the Call of Duty livestream. They also teased there will be plenty more information coming out at E3 this year which will be covered here on Out of Lives.
UPDATE: 3rd May 
Two more maps have been confirmed in Forbes magazine for the Call of Duty 4: Remaster
That brings the total of maps revealed to five. Stay tuned for more.
---