This past week I took a trip to have a meal at The Clink restaurant which is based inside Her Majesty's Prison Brixton.
No you didn't misread that.
Lunch. Inside. Prison.
This isn't some misconstrued dream, or a botched attempt to recreate an episode of Prison Break, but is actually a charity which provides a dining experience which offers either breakfast or lunch. The restaurant is 'staffed by the prisoners who are working towards City and Guilds NVQs leading to employment in the UK Hospitality industry upon release'.
Now in the interest of forwardness, the process leading up to the dining experience is a little unnerving (and it should be!) with a full security and persons check before entering. No electronic devices, loose change etc- basically empty your pockets. You then queue at the daunting gates into the actual prison; there is something a little unnerving about stepping into a prison- but hey I guess that's the point. You are escorted in and taken through to the central building which has been converted into a fully functioning restaurant.
Once inside the restaurant however, it is literally like stepping into another world. The décor and set up of the restaurant is no different to what you would expect in any chain restaurant on the high street. It really doesn't take long to forget the fact that you are in a Category C prison (Those who cannot be trusted in open conditions but who are unlikely to try to escape).
Before you ask- no the staff are not in jumpsuits! We were greeted by an extremely pleasant maître d' and guided us to our seats as the atmosphere of busy restaurant filled the air. Now one of the highlights of the experience (in my opinion) was that mobile phones were not allowed (for obvious reasons) which meant that guests get to do this thing called "Human interaction"!
The menu itself is an interesting twist on some classical British cuisine and is naturally sourced from the local area. So without breaking down the menu dish by dish, your options include beef, chicken and vegetarian options for starters and mains and the quality of the presentation of the food is excellent. Now I don't pretend to be any form of food critic but if the food looks good and tastes good- than it gets a thumbs up from me! A special mention on the mushroom ravioli which was fantastic; I definitely would have asked for seconds!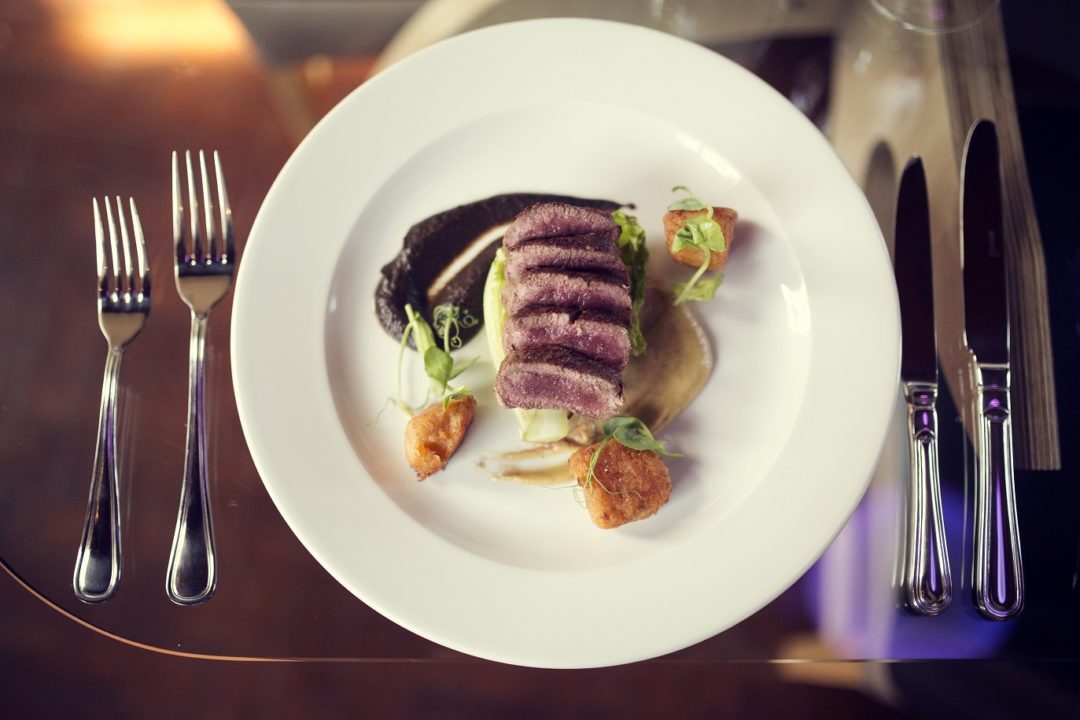 So here's the slightly confusing final thought. It's a great experience that you should definitely try. But at the same time, you don't really experience anything that different to what you have grown accustomed to in your average high street restaurant. And I think that's the key. It's an experience for all those involved and ultimately you are involved in a positive manner for those in society who may have lost their way slightly; as is the case for any charity. The only difference is- this one tastes so damn good!
The first Clink restaurant opened in 2009 and has trained 500 prisoners since its launch, with a further 10 projects planned by the end of 2017. Serving around 4000 diners a month, the reoffending rate of those who have come through the programme have dropped by 73%. Regardless of your thoughts and opinions on those serving time at Her Majesty's pleasure, it's safe to say that any lover of good food should check this out.
To find out a little bit more about The Clink Charity or to make a booking check out their website:
Been to The Clink? Why not give me a 140 character message on the Twittersphere @MeteCritic