Warner Bros have announced six new expansion packs coming to Lego Dimensions on November 18th.
The big expansion drop will include Sonic, Gremlins, E.T, Adventure Time and 2 expansions for the upcoming movie Fantastic Beasts and Where To Find Them. You can find a full breakdown for each set below.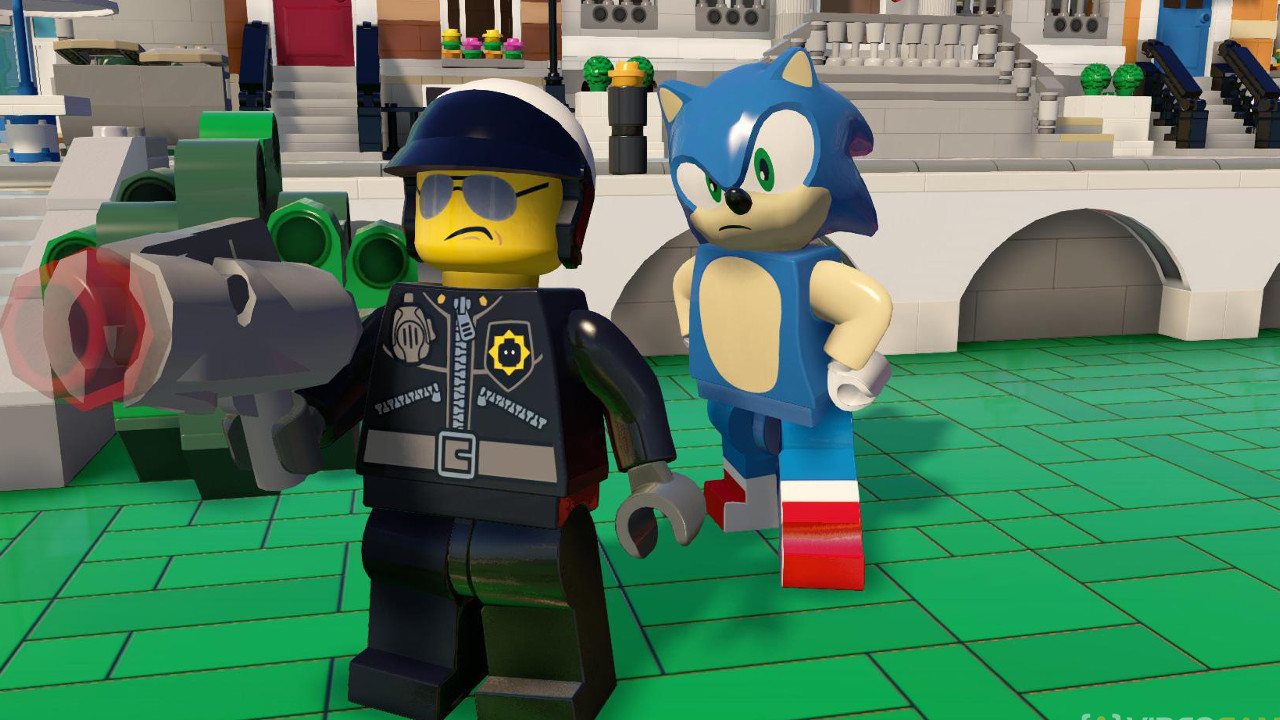 Sonic The Hedgehog – Level Pack
The Sonic The Hedgehog Level Pack includes a complete level of Sonic The Hedgehog gameplay where players can race as the Blue Blur at lightning speeds through some of his most iconic locations including Green Hill, Emerald Coast, Labyrinth and many more. Players can build the Sonic the Hedgehog LEGO minifigure and use his Acrobat ability to swing off poles and avoid the Badniks, then use his famous grind rails move to make a quick escape. The pack also includes a 3-in-1 Sonic Speedster which can be rebuilt into Blue Typhoon and Motobug, and a 3-in-1 The Tornado which can be rebuilt into Crabmeat and Eggcatcher.
Gremlins – Team Pack
Players wanting to bring Gremlins™ to life in LEGO Dimensions can add the Gremlins Team Pack which includes popular rivals Gizmo and Stripe LEGO minifigures. Gizmo's Combat Roll and Dash Attack abilities can be used to get him out of sticky situations and Stripe uses his claws with his Vine Cut ability. Players can rebuild the 3-in-1 R.C. Racer vehicle into the Gadget-o-matic and Scarlet Scorpion and the 3-in-1 Flash 'n' Finish into a Rampage Record Player and Stripe's Throne.
ET: The Extra-Terrestrial – Fun Pack
The E.T.™ The Extra-Terrestrial Fun Pack includes an E.T. LEGO minifigure with Illumination and Fix-It abilities, as well as special Stealth and Telekinesis skills to make his way around the LEGO multiverse. Players can build E.T.'s iconic Phone Home device, then rebuild it into the Mobile Uplink and Super-Charged Satellite for additional in-game abilities.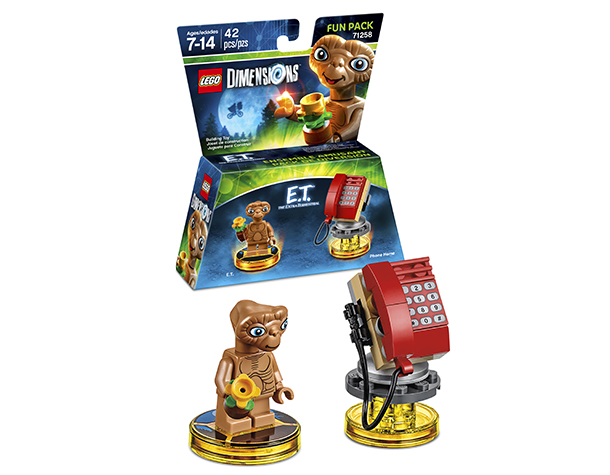 Adventure Time – Fun Pack
Releasing in the UK first at Argos, Fans of "Land of Ooo" can add a Fun Pack based on Cartoon Network's Adventure Time™ with a Marceline the Vampire Queen LEGO minifigure. Players can activate her Sonar Smash and Bolt Deflector abilities using the Marceline Axe Guitar to solve puzzles and battle enemies. They can also build and use Marceline's Lunatic Amp to make some noise, and then rebuild it into the Shadow Scorpion and Heavy Metal Monster for extra in-game powers.
Fantastic Beasts and Where to Find Them – Story Pack
The Fantastic Beasts and Where to Find Them Story Pack will provide a complete movie-based gameplay experience with six action-packed levels and new LEGO Gateway bricks to build the Magical Congress of the United States of America (MACUSA) atop the LEGO Toy Pad. Players can build the Newt Scamander LEGO minifigure and help him find his escaped magical creatures in New York City and use a variety of spells, including Diffindo, Reparo and Lumos. The pack will also come with a 3-in-1 Niffler which can be rebuilt into the Sinister Scorpion and Vicious Vulture. The Fantastic Beasts and Where to Find Them Story Pack will be the exclusive construction toy offering this holiday for the exciting expansion of J.K Rowling's Wizarding World.
The new expansions will arrive on Xbox One, PS4, Xbox 360, PS3 and Wii U versions of Lego Dimensions.
LEGO Dimensions - Sonic Debut Trailer