Originally posted by Stuart Kirkman
Last week we talked about DC's latest creative restructure in DC Comics: Road to Rebirth, which covered the history of DC's comic reboots and what we can expect to see from them in the next few months. The Rebirth initiative is line-wide, meaning that every book is going to be affected in some way. Geoff Johns is writing the double-size issue that kicks everything off, and he was originally rumoured to be maintaining some creative control over the direction of the DC Universe, ensuring that everything fits into his mysterious long term plan.
This was particularly encouraging, as Johns has been a driving force behind DC for the last decade, revitalising several characters and delivering some of the most consistent and interesting storylines. However, he's recently taken a position with DC Films as the Co-Chief alongside Jon Berg, and this is going to take him away from his comic book writing commitments. Good news for the future of DC movies, but sad news for comic book fans.
So DC Comics: Rebirth #1 will be the last book written by Geoff Johns for the foreseeable future, and based on the spoilers that have already leaked, it's going to be a strong finish. If you want to find out what's coming before the issue drops on Wednesday, the answers are just a Google search away, but if you can hold out for a couple more days you can rest assured that it'll be worth the wait. The DCU is moving in an interesting new direction; the secrets behind the New 52 are being revealed, and the classic DCU is making something of a comeback, creating a richer environment for future storytelling.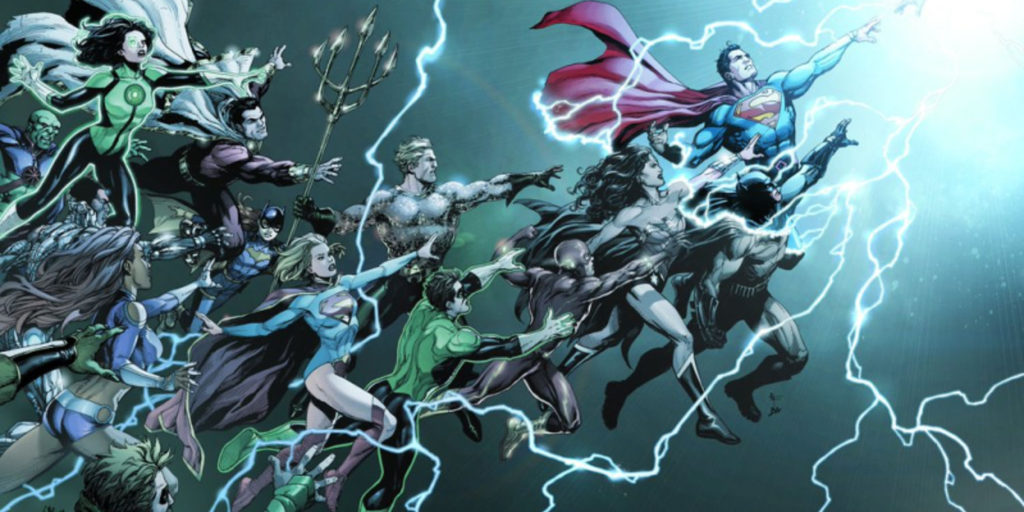 DC Comics: Rebirth #1 by Gary Frank
This new world order is starting off with just 30 titles, but half of them will be double-shipping, meaning that we'll get two issues each month instead of one. Almost all the creative teams have been changed, with several writers and artists new and old joining DC's ranks. This makes it an exciting time to be a DC comics fan, but also a confusing one, as it's difficult to know which books are worth your time and money. DC may have dropped the price of (almost) all of their books, but reading monthly comics is still an expensive game, so this breakdown will hopefully help you spend your money wisely.
First of all, lets take a look at a full breakdown of what's coming:
Twice-Monthly Books
Batman by Tom King with art by David Finch and Mikel Janin
Detective Comics by James Tynion IV with art by Eddie Barrows and Alvaro Martinez
Nightwing – Written by Tim Seeley with art by Javi Fernandez and Marcus To
All-Star Batman – Written by Scott Snyder with art by John Romita Jr., Sean Gordon Murphy, Jock, and various others.
Action Comics – Written by Dan Jurgens with art by Patrick Zircher, Tyler Kirkham and Stephen Segovia
Superman – Written by Peter J. Tomasi and Patrick Gleason with art by Gleason and Doug Mahnke
Wonder Woman – Written by Greg Rucka with art by Nicola Scott and Liam Sharp
Justice League – Written by Bryan Hitch with art by Tony Daniel and Fernando Pasarin
Aquaman – Written by Dan Abnett and Brad Walker with art by Walker, Jesus Merino and Phil Briones
The Flash – Written by Joshua Williamson with art by Carmine Di Giandomenico and Neil Googe
Green Lanterns – Written by Sam Humphries with art by Robson Rocha and Ardian Syaf
Hal Jordan & The Green Lantern Corps – Written by Robert Venditti with art by Ethan Van Sciver and Rafa Sandoval
Green Arrow – Written by Ben Percy with art by Otto Schmidt and Juan Ferreyra
Suicide Squad – Written by Rob Williams,with art by Jim Lee and Philip Tan
Harley Quinn – Written by Jimmy Palmiotti and Amanda Conner with art by Chad Hardin and John Timms
Deathstroke – Written by Christopher Priest with art by Carlo Pagulayan, Igor Vitorina and Felie Watanebe
Monthly Books
Batgirl – Written by Hope Larson with art by Rafael Albuquerque
Batgirl and the Birds of Prey – Written by Julie Benson and Shawna Benson with art by Claire Roe
Batman Beyond – Written by Dan Jurgens with art by Bernard Chang
Redhood and The Outlaws – Written by Scott Lobdell with art by Dexter Soy
New Super-Man – Written by Gene Luen Yang with art by Viktor Bogdanovic
Supergirl – Written by Steve Orlando with art by Brian Ching
Superwoman – Written by Phil Jimenez with art by Jimenez and Emanuela Lupacchino
Trinity – Written by Frances Manapul with art by Manapul and Clay Mann
Titans – Written by Dan Abnett with art by Brett Booth
Teen Titans – Written by Ben Percy with art by Jonboy Meyers
Super Sons – Written by Chris Burns and Dennis Culver with art by Jorge Jimenez
Cyborg – Written by John Semper with art by Will Conad And Paul Pelletier
Blue Bettle – Written by Keith Giffen with art by Scott Kolins
The Hellblazer – Written by Simon Oliver with art by Moritat
Trinity #1 by Francis Manapul
All of this might not mean much to someone who isn't familiar with the creative teams behind each project, but some of these titles are more noteworthy than others:
Points of Interest
Some writers are more-or-less carrying on with what they were doing before: Dan Jurgens is continuing the story that he began in Superman: Lois and Clark, which follows the pre-New 52 Superman, his wife Lois Lane and their son Jon. Scott Snyder is sticking with Bruce Wayne, but he's moved over to All-Star Batman, which will tell more unrelated stories with a rotating team of famous artists. Robert Venditti is also continuing his creative run with Hal Jordan on a new Green Lantern title.
Several notable books are being written by people who are generally known for their art work, such as Bryan Hitch who's still writing the Justice League, and Francis Manapul, who as well as drawing Trinity, he'll be writing it as well. Phil Jimenez will also be pulling double-duties on the new Superwoman book. Whether this bodes well for the quality of the stories or not, it's interesting to see DC putting so much faith in their artists ability to tell stories.
Several new writers have emerged from the Indie comic book scene: Hope Larson will be the voice behind Batgirl, relative newcomer Ben Percy will be penning Teen Titans, and Julie and Shawna Benson will be making the transition from television to comics with Batgirl and the Birds of Prey. But not all the blood is fresh, as comics legend Greg Rucka is returning to DC for the first time in years, and is back behind the steering wheel of Wonder Woman. Jim Lee is also keeping his artistic juices flowing, providing some of the pencils on the twice-monthly Suicide Squad book.
A comic book publisher lives or dies based on the strength of the creators, and in the current landscape a large amount of the bankable talent has moved into Independent comics, where they are better compensated and retain ownership of their creations. This problem has affected both Marvel and DC, but after the loss of Geoff Johns there is even more pressure on the people who are stepping up to the plate, and all we can hope is that they swing for the fences.