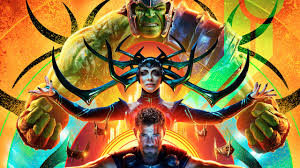 Mr Moody reviews Thor Ragnarok is directed by Taika Waititi, starring Chris Hemsworth, Tom Hiddleston, Cate Blanchett, Idris Elba, Jeff Goldblum, Tessa Thompson, Karl Urban, Mark Ruffalo and Sir Anthony Hopkins.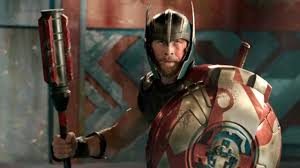 This time around Thor is imprisoned, forced to fight Hulk in a gladiator battle, all the while Hella the goddess of death threatens to destroy all of Asgard.
When it comes to Thor Ragnarok this film does for Thor what Captain America the Winter Soldier did for Cap, this film is exactly what Thor needed, he needed he major boost of fun and likability and a great sense of freshness.
What's so great about Ragnarok is that it takes everything we know everything that's been established about Thor and it dismantles it. His Hammer! Forget about it it's gone, his macho sense of right and wrong is played for comedy, but it also keeps the heart of his character intact, the family dynamics, the struggle with his brother and his father and now a new thing that he has to deal with in Hella played excellently by Cate Blanchet.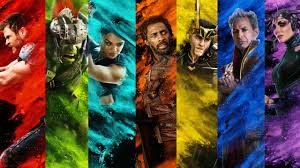 Everyone in this movie steals the movie, there was not one specific character that stole the film, because everyone did such a great job that they all stole the movie.
Tessa Thompson as Valkyrie, Jeff Goldblum as the Grandmaster was pure perfection. Mark Ruffalo as Bruce Banner & The Hulk, Chris Hemsworth & Tom Hiddleston great as always, even the director himself Taika Waititi as Korg was great, everyone was fantastic.
This is one of my favourite Marvel movies, this is everything I want to see in a superhero movie, it's extremely fun and likable, when the action scenes are there they're like an adrenaline rush, they're extremely badass and beautifully shot, this is a very colourful movie.
According to Taika Waititi he has said that 80% of this movie was improvised, if true that is astounding because so much of it feels very well created and controlled in regards to the humour, it's so well timed and some might have an issue with this, this is an extremely funny movie and quite often rather than having a very serious moment it will be played for a joke and that's one of the best things about this film, I believe this is the 17th MCU movie at some point this series is going to have to acknowledge and be very self-aware of itself and make fun of itself and Ragnarok does that.
Something else I loved was they had the immigrant song in the movie, it wasn't just for the trailer, I was so glad they actually had it incorporated in some really badass moments in the film.
You actually get to see Thor being the god of thunder not just calling down some lightning bolts with his hammer, they get rid of some many of the things that we're used to seeing in a Thor movie that it became very surprising consistently because you go to a Thor film at this point expecting to see certain things, and this film constantly sidestepped those expectations with great writing and great directing.
It's so rare that I find movies where I'm consistently smiling, I'm wrapped up in the movie and I'm forgetting that I'm watching one because it's so investing and just such a glorious time.
Thor: Ragnarok gets my Glorious Seal of Approval and is a 9/10