Whisper of the Heart
This is Part 3 of Adam's series reviewing the films of Studio Ghibli. You can find Part 1 and Part 2 by using the hyperlinks.
Whisper of the Heart (1995) is the only Ghibli film to be directed by Yoshifumi Kondõ. Written by Hayao Miyazaki, based on a Manga by Aoi Hiiragi, and scored by Yuji Nomi. All of the films I've covered so far in my review have been written and directed by Hayao Miyazaki and scored by Joe Hisaishi. Having a steady top team who clearly work well together has proved highly beneficial to those earlier films. Providing consistency to them that wouldn't be possible otherwise. So, it's a clear sign of how highly regarded Yoshifumi Kondõ was that he was tasked with directing this film.
The change in the top team is clear in Whisper of the Heart, which feels slightly different though maintains a great deal of familiarity. The coming of age, romantic drama of this film, set in the real world, doesn't contain any fantastical elements with which to dazzle the viewer; so the weight of that burden falls firmly on the characters and the narrative. It starts off slowly, introducing our main cast and setting the scene. 
Shizuku is a 14 year-old schoolgirl who loves to read and spends most of her time at the library. Alongside her best friend, Yuko, she experiences the troubles familiar to most teenagers regarding romance and the angst of not being sure how to tackle the future. Self-doubt, lacking direction, emotional turmoil and various other factors play into the plot. The crux of which is Shizuku wanting to prove to herself, and others, that she is worthy of the affections of the boy she likes by accomplishing something important; Achieving her dream of writing her first story.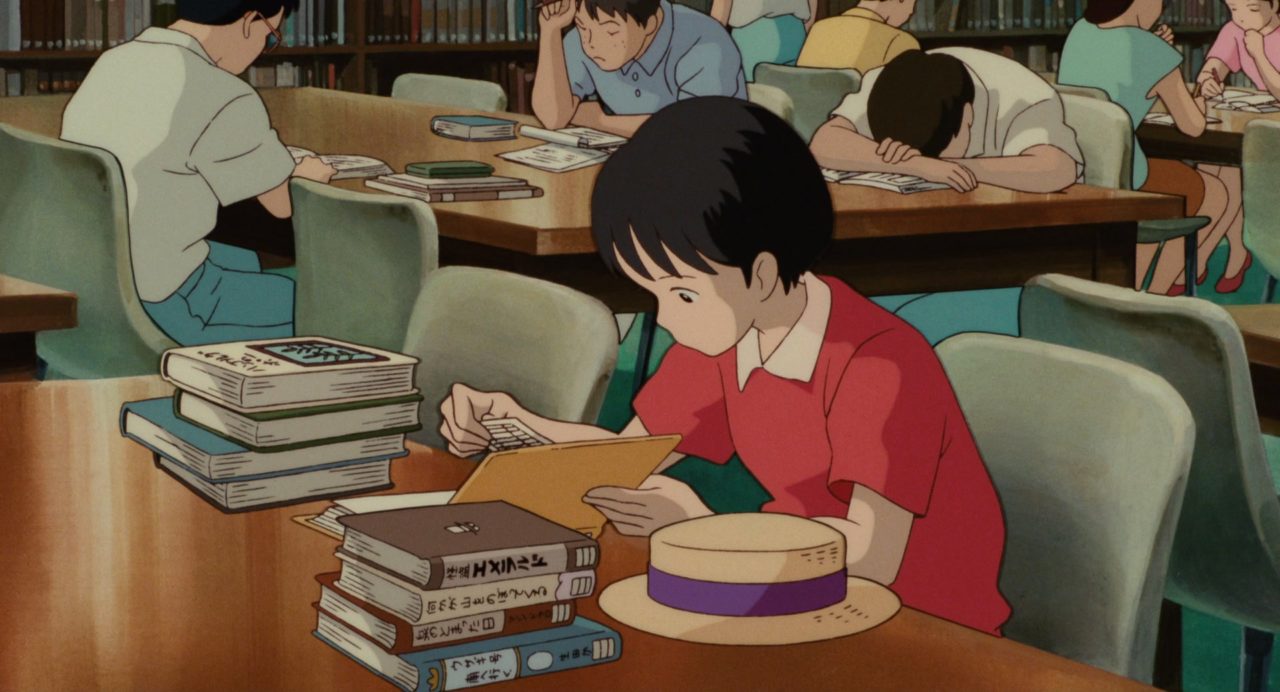 It seems rather prescient in this time of lockdown due to the ongoing Pandemic. Many of us, seeking to fill the time and while away the hours in isolation, have turned to creative pursuits whether for the first time or returning to a long-languishing project with renewed vigour. The trials and tribulations Shizuku experiences will hit home for many of us. The lessons learned through her visits to old Nishi's antique shop are as relevant now as they were when first put to paper and then onto cinema screens.
I've made no secret of the fact that I really like the fantastical elements and the mixing up of technologies in the Studio Ghibli films compared to the more realistic worlds. I was captivated by this story. It started off slow, it took a little while to get its claws into me, but once it got going I really was along for the ride. I really wish Yoshifumi Kondõ had been able to direct more films as part of Studio Ghibli, his direction was excellent. His pedigree is clear in the framing of shots and in the movement of the characters. Ultimately I feel he captured the emotion of it all perfectly. Sadly he passed away in 1998, just a few short years after this film was released.
I really do recommend it.
Many of Studio Ghibli's films are currently available on Netflix (UK). Do watch them while you can, if you haven't already.