Podcast Review – Something True
"Something True brings you incredible and bizarre true stories from the footnotes of history. A dog in the United States Cabinet? A leading rocket scientist who quit his job to make a moonchild? Virginia Woolf donning blackface to prank a navy? They're all true. They're all Something True." – Synopsis taken from idlethumbs.net/somethingtrue
Episodes Reviewed: 1-8
Average Episode Length: 15 Minutes
Release Schedule: Weekly (8 Part Series)
Formats: Audio Only
Have you ever wondered what would happen if the President of the U.S.A. made his dog a Cabinet Secretary? What about the story of a wealthy landowner in 1872 California who drowned crossing a river and the resulting scramble to claim his fortune? Well, wonder no more as Something True tells you obscure, often little known, stories that are 100% fiction-free.
Each episode is written by Duncan Fyfe and narrated by Alex Ashby; they take a form akin to a short bedtime story. It is a wonderfully soft, inviting tone for the episodes and the various voices that Alex Ashby uses to differentiate between characters are always lovely to listen to and clearly defined. This is complemented with an excellent array of background music that is not intrusively loud but always suits the tone of each part of the story and adds a great deal to the listening experience. Alex Ashby does a great job and it helps that he has clearly been given something wonderful to work with.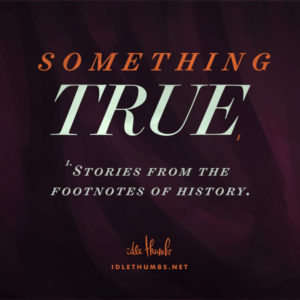 Duncan Fyfe is a professional writer and it shows. Each episode is beautifully crafted to capture your imagination and keep hold of it. Storytelling is an art, a complex one that most of us don't really understand and yet we know instinctively good (or bad) storytelling when we see it in action. Impressive when we don't really know how to make it happen ourselves. Here Duncan Fyfe succeeds each episode to do just that, deliver good storytelling.
The production quality is excellent. The audio from Alex is flawless and complimented by good editing and wonderful music. Though the episodes are short, this podcast is well worth your time if you are interested in hearing about… Something True.
Links 
Website: idlethumbs.net/somethingtrue
iTunes: https://itunes.apple.com/podcast/something-true/id1218891845